Posted by Katy | Toolstop on 20th Jul 2021
In this Toolstop guide, we give you the rundown on all the new Knipex tools for 2021. Knipex are one of the most trusted suppliers of professional hand tools.

New in from Knipex for 2021

Knipex are a German manufacturer of pliers and other hand tools for professional use. In this Toolstop guide, we give you a rundown on all of their latest tools for 2021 which you can shop right here at Toolstop.
---
Knipex 00 20 72 V04 Mini Pliers Set

The Knipex 00 20 72 V04 mini pliers set in belt tool pouch contains the 87 01 125 Cobra High-tech Water Pump Pliers and 86 03 125 Mini Pliers Wrench.
The Knipex Cobra are self-locking on pipes and nuts meaning no slipping on the workpiece and low handforce required. Big quality in a small format: only 125mm long means they fit in trouser pockets. Ideal for turning, pulling, gripping, holding and screwing.

Features:
Grip width up to wrench opening 27mm / 1 inch for pipes

Self-locking grip on pipes and nuts

Fine adjustment for fast adjustment to different sizes of component

Grips pipes, nuts and flat, round and angular components
The Knipex 86 03 125 Mini Pliers Wrench replace the need for sets of metric and imperial spanners. They have smooth jaws for damage free installation and are excellent for gripping, holding, pressing and bending workpieces.
Features:
Measuring just 125mm long, these pliers are suitable for working on precision screw joints

The parallel jaws give a more solid grip

It grips all widths up to 23mm or 7/8 inch

Screws, grips, holds, bends and presses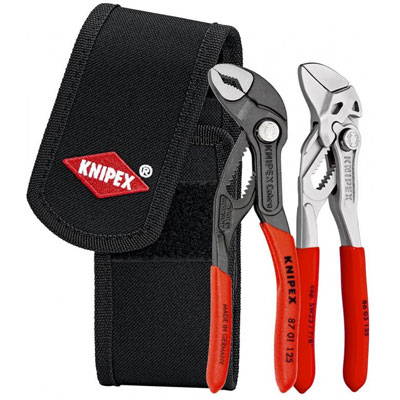 ---
Knipex 90 10 165 BK CutiX Universal knife

The Knipex 90 10 165 BK CutiX Universal knife offers you an exact cut without bending or breaking. It is suitable for standard 18mm blade types: smooth, curved and with hooks for completing a variety of cutting jobs. The extendable stabilisation bar ensures versatile, precise, and faster cutting and the high-quality blade locking mechanism provides a secure fit without wobbling.
Features:
No unintentional bending or breaking of the blade

The robust magnesium housing is as light as plastic yet as strong as die-cast aluminium

Fits comfortably in the hand

Includes two spare blades in the handle drawer which can be changed without any tools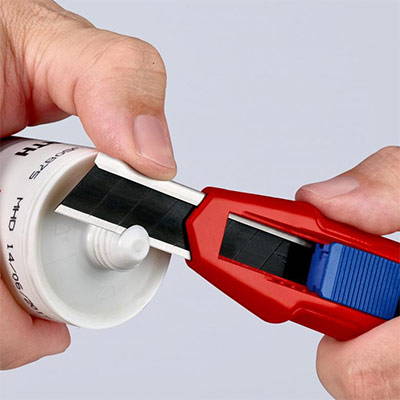 ---
Knipex 90 22 10 BK BiX Plastic Pipe Cutters

The Knipex 90 22 10 BK BiX Plastic Pipe Cutters will cut pipes without shavings. It fits comfortably in the hand and is capable of cutting high-temperature plastic drain pipes and electrical conduits in next to no time. Quickly cuts unreinforced plastic pipes from 20-50mm with a wall thickness of up to 2.4mm.
Features:
Cuts pipes quickly, cleanly and without shavings

Can be used to cut sealing sleeves during final assembly

Locking mechanism for safe transport

Two spare blades integrated in the tool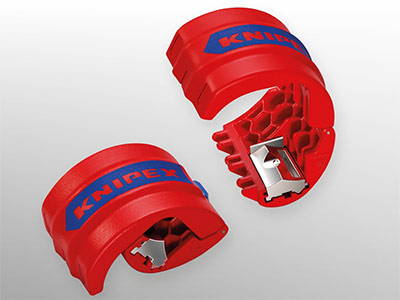 ---
Knipex 81 01 200 TwinGrip Slip Joint Pliers

The Knipex 81 01 200 TwinGrip Slip Joint Pliers will easily grip stripped screws and bolts. They have a push-button design with 5 adjustment positions and a 4-22mm gripping diameter. Made from high quality chrome vanadium steel with an optimised jaw geometry for maximum gripping force when tightening and loosening.
Features:
Unique front jaw gripping area - Allows tight gripping of worn bolts and screws from the front

Slim design for working in confined areas

Gripping capacity of 4-22mm diameter

Reliable gripping of flat surfaces
See the Knipex 81 01 200 in action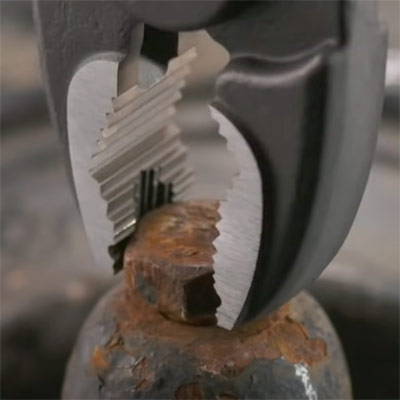 ---
Knipex 86 04 100 XS Pliers Wrench

The Knipex 86 04 100 XS Pliers Wrench measure only 100mm with a 21mm width, but are fully functional for tightening and loosening screws. They offer exceptional accessibility, even in confined spaces and feature 10 adjustment positions with a large gripping capacity.
Features:
Ideal for holding, pressing and bending materials

Can be used directly on chrome without damaging the surface thanks to the smooth jaws

One-handed fine adjustment

The pinch guard helps prevent crushing
---
Knipex 00 21 34 HL S2 Robust23 Start Electrician's Tool Kit

The Knipex 00 21 34 HL S2 Robust23 Start is a 24 piece electrician's tool kit stored in a handy tool box. It comes with 24 assorted tools, partly VDE-tested according to DIN EN 60900. The ideal start up kit for electricians. Comes complete in a robust tool box designed for the toughest operating conditions: dust-tight, waterproof and temperature resistant.
Features:
The ideal kit for electricians - contains a selection of Knipex most popular products: pliers, cutters, screwdrivers and more

Stored in a fit-to-fly case made from impact-resistant polypropylene

The dividable bottom compartment of the tool box offers plenty of space for additional tools, measuring equipment and consumables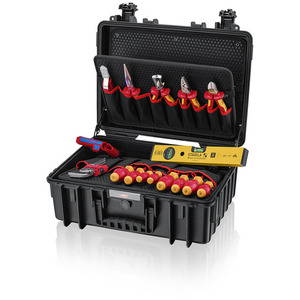 ---
What do you think of Knipex's latest offering? All products are on order and shall be in stock at Toolstop soon, if not already. In the meantime, why not shop our extensive range of other Knipex tools?
See all of Knipex's range of new tools for 2021 in their exclusive YouTube demo video.
---
Bestselling Knipex Tools at Toolstop:
Explore the Toolstop Blog...