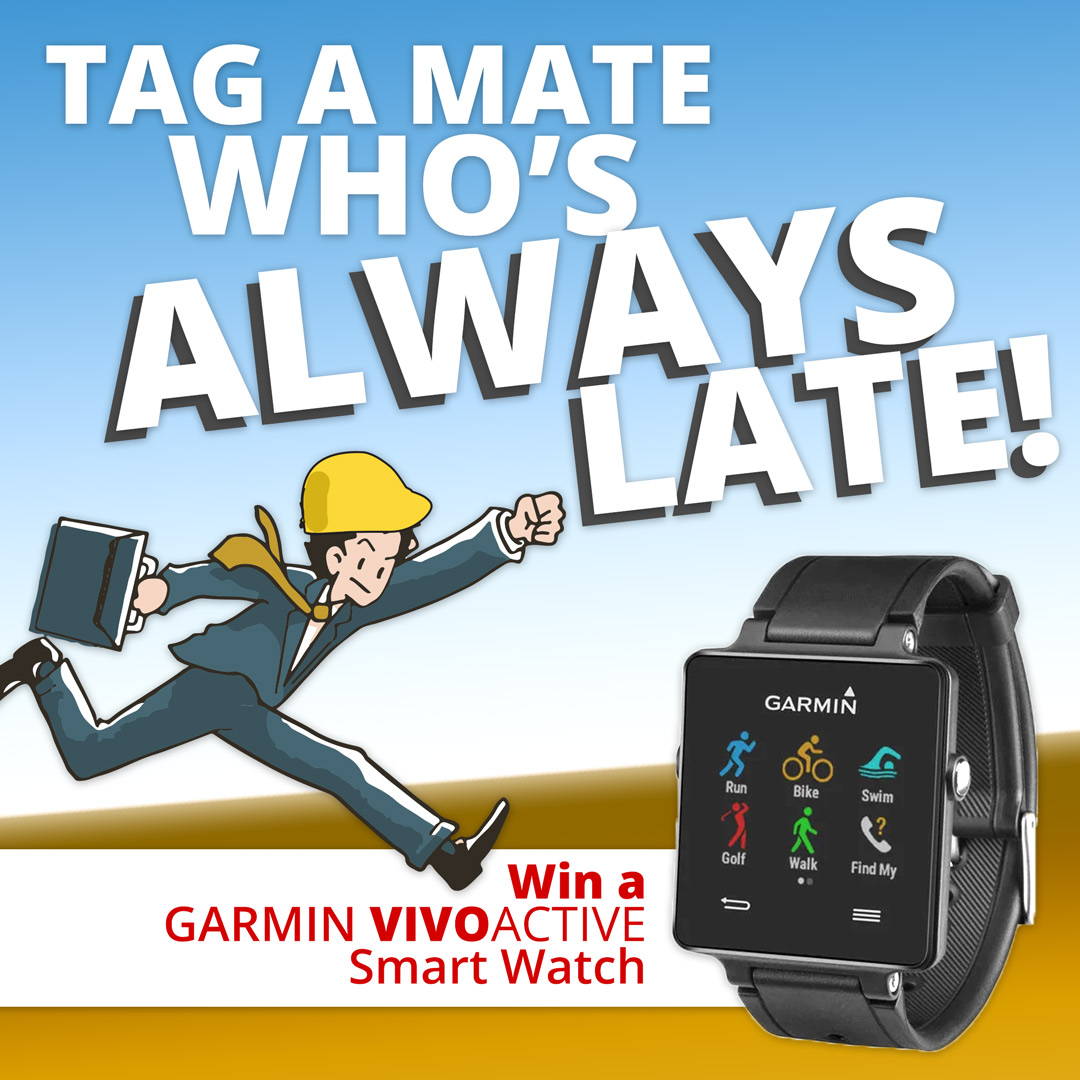 Tag a mate who's also late and win a Garmin Watch!
We've been clearing out the old prize cupboard and come across a Garmin Vivoactive watch. It's not the newest edition, but it has loads of functionality and will do a great job for tracking runs, walks, golf, hill walking, snowsports and more.
You're in with a chance of winning it in our July competition. All you have to do is head over to our Instagram or Facebook page, find the latest post about this competition and tag a mate/friend/acquaintance/apprentice who's always late.
Good luck, and remember to sign up below to hear about the latest competitions.
PRIZES: 1 winner will receive 1 Garmin Vivoactive 010-01297-00 Watch.
ENTRY: The closing date for entries is the 27th July 2020 at 1:00PM GMT. Any entries received after this date will not be considered.
PRIZE DRAW: Toolstop, will randomly select the winner on the 27th July 2020. The winner will be notified via Instagram or facebook Messenger and the name of the winner will be published on social media. The winner will be sent their prize once they provide Toolstop with their address details.
ELIGIBILITY: Only one entry per user. No purchase necessary. Entrants must be eighteen (18) years of age or older. The competition is not open to any individual if they or their parent, or sibling, or any member of their household is an employee, officer or director of Toolstop Ltd. Toolstop reserves the right to require proof of eligibility and to conduct a background check on entrants, if applicable. Entries that are incomplete, fraudulent or corrupted are void and will not be accepted.
PRIVACY: By entering, each entrant agrees to this Web site's Terms of Use and Privacy Policy and the rules stated herein. Toolstop may send occasional email newsletters which can easily be unsubscribed from.
DISCLAIMER/OTHER REQUIREMENTS: All entrants, as a condition of entry, agree to be bound by these official rules and the decisions of Toolstop Ltd. Except where prohibited by law, by entering a competition, each entrant consents to the use of his/her name, any other information contained in his/her entry in advertising, promotional and marketing materials by Toolstop without additional compensation, which may require, without limitation, winner to appear in person on a television, radio or Internet broadcast. In addition, by entering, all entrants, except where prohibited by law, consent to being photographed, filmed, taped and/or interviewed about the competition. In connection therewith, all entrants grant full permission and consent to Toolstop to utilise any of the results of such photographing, filming, taping and/or interviewing in any and all media now known or hereafter devised and hereby release Toolstop from all liability related thereto. The information you provide will only be used for this contest's purposes.
THIS COMPETITION IS VOID WHERE PROHIBITED BY LAW. NO PURCHASE NECESSARY.