Posted by Katy | Toolstop on 11th Jan 2022
Makita are launching a series of new tools & accessories for 2022. See Toolstop's top picks in this exclusive guide, updated frequently so you can always stay on top of their latest arrivals.

Makita Announces New Power Tools for 2022!

With each new year comes the arrival of new tools. Makita has announced a series of brand new power tools and accessories for 2022 and we can't wait! Here's our top picks:
---
New Makita Products January 2022:

The SP001G is Makita's first plunge saw in the 40Vmax XGT range. This 165mm cordless plunge saw features a brushless motor for optimum power output and a bevel capacity of 1 to 48 degrees.
Plunge saws can be fed at the start of the material or be plunged directly into where you need to cut. Find out everything you need to know about them in our guide.
Top Features:
Auto-Start Wireless System (AWS) connects to compatible dust extractors with Bluetooth. The dust extractor automatically runs while the switch is on

Variable speed

Soft start

Brushless motor

Depth stopper for splinter free cutting

Guide rail can be attached without adapter

Positive stops at commonly used bevel angles (22.5°, 45°)
We can't wait to see it put to the test!
Specification:
Blade Diameter: 165mm

Max Cut @ 0º: 56mm

Max Cut @ 45º: 40mm

Max Cut @ 48º: 38mm

Bore: 20mm

No Load Speed: 4,900 rpm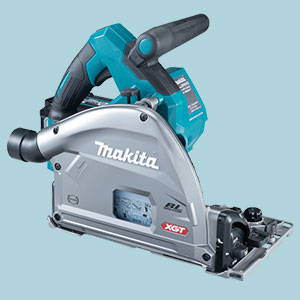 ---
DKT360 36V Cordless Kettle

We've teased about this on social media for long enough, and now it's finally here! The Makita DKT360 cordless kettle! 😍☕
This cordless kettle is powered by 2 x 18V batteries and will boil 23 degrees celsius water in just 8 minutes. This model is great for use on job sites where there is limited/no access to an electrical supply. It will boil a total of 1.4L of 23°C water on 2 fully charged 5.0Ah batteries.
Makita already have an extremely popular cordless coffee maker on the market, the DTM501, but with this new invention, it is now even easier to prepare hot drinks and instant meals on the go. This model is much more versatile than the Makita coffee maker.
Top Features:
Powered by two 18V LXT batteries in series

Equipped with an anti-spill lock button to minimise accidental spilling of hot water

Dual layer structure of inner stainless layer and outer plastic layer provides high heat retention while keeping kettle surface cool

Kettle stops boiling automatically when either kettle or power supply stand is lifted

LED lights indicate status of kettle
Specification:
Voltage: 36V

Water tank capacity: 0.8L

Boiling time of 0.8L water: 8 mins (23°C water), 9 mins (10°C water)

Amount of 23°C water boiled on 2x fully charged batteries: 1.4L (with two BL1850B), 1.7L (with two BL1860B)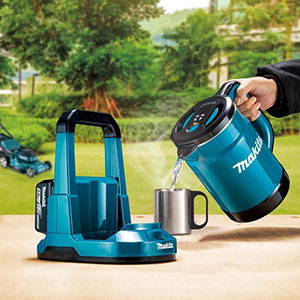 ---
DFR551 18V Auto Feed Screwdriver

Makita already has an 18V auto feed screwdriver, the DFR550, but with the new DFR551, we now have the added advantage of a fully brushless motor!
The DFR551 features push drive technology which delivers increased efficiency, longer run time and lower noise for drywall fastening. The motor starts only when the fastener is engaged with the workpiece, so battery power is used more efficiently for significantly longer run time.
It has a screw size range of 25 to 55mm and 0-6000 rpm no-load speed.
Top Features:
Brushless motor

Push drive technology

One-touch casing attachment/removal reduces the trouble of reversing and replacing a bit

Screw feeding mechanism redesigned to improve durability and reduce screw fall

Lock-on function
Will you upgrade to this new and improved model?
Specification:
Drive shank hex: 1/4"

Screw Size Range: 25 to 55mm

No Load Speed: 0 - 6,000 rpm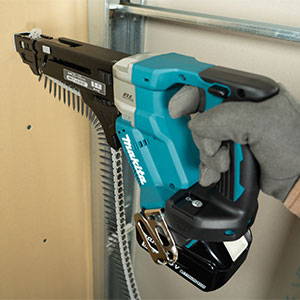 ---
DBO380 18V Finishing Sander

The DBO380 is Makita's first ever cordless finishing sander. It has a powerful brushless motor with tool-less paper clamp for ease of use.
This 1/2 sheet sander will achieve up to 12,000 opm and the built-in dust extraction mechanism helps to ensure a clean, healthy working environment. The ideal sander for a variety of finishing jobs in many materials.
Top Features:
3-stage electronic speed control via push button

Constant speed control

Brushless motor

Tool-less paper clamp

Detachable front grip

In-built dust extraction mechanism

Connectable to dust extractor
Is a Makita cordless finishing sander a game changer?
Specification:
Orbits per Minute: 4,000/ 8,000/ 12,000 opm

Orbit Diameter: 2mm

Sanding Stroke: 8,000/ 16,000/ 24,000 spm

Paper Fastening: Hook & Loop

Pad Size: 93 x 185mm

Paper Size: 93 x 228mm
---
The ADP001 is exactly the same as the bestselling ADP05 and ADP06 USB adaptors, only now compatible with 40Vmax XGT batteries!
Use this handy gadget to charge your electronic devices with your 40Vmax XGT Li-ion batteries. Ideal for use on the site when you don't have access to outlets for charging devices such as mobiles and tablets. With a fully charged BL4040 Makita battery, the average phone can be charged approximately 5 times.
Top Features:
Suitable for charging mobile devices including smartphones and tablets

LED indicator goes green when the switch is on, allowing user to easily see when a device is charging

Auto-off function

Two type A (DC5V/2.1A) USB output ports

With belt clip
Never lose charge on your mobile device again!
Specification:
With a fully charged BL4040 battery the average phone can be charged approximately 5 times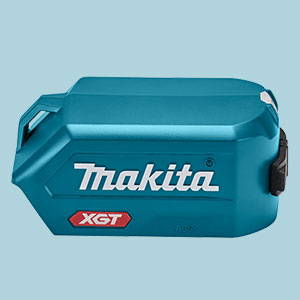 ---
All of this and more COMING SOON...

Check back soon to be notified when even more new tools are announced and to find out when these models will be in stock!
Alternatively, you can sign up to our newsletter or follow us on social media to be the first to be notified on their arrival.
For Exclusive Makita Content:

---
Explore the Toolstop Blog...