Posted by Katy | Toolstop on 9th May 2021
In this quick Toolstop guide, we're looking at and reviewing the BO6050J random orbital sander from Makita.

Makita BO6050J Random Orbital Sander Review

In this quick Toolstop guide, we're looking at the BO6050J random orbital sander from Makita.
It's available in 110 or 240 volts, offering you a 750 watt motor for professional sanding tasks. The speed of the orbits is controlled via the variable speed dial, giving you between 1600 and 6800 revolutions per minute. Simply choose the best speed suited to the application and material you're working on. Power is controlled by the sliding switch which you can lock off for continuous use.
---
Makita BO6050J - What's its features?

This Makita orbital sander is 150mm in diameter which makes it the ideal size for reaching into tight, hard to reach areas. Dust extraction is built-in and you can use either a dust bag or dust extractor. There's a side handle, which can be fitted either side of the sander, to improve your grip while it's in use.
Dust extraction is extremely important. Find out more about the importance of it in our M Class Dust Extraction blog.
---
At the front of the machine you'll notice a bumper, so when you're sanding up to edges, the bumper will stop you from damaging the sponge pad. The pad itself is 6"/150mm in diameter and holds the paper with the hook and loop system. Hook and loop allows for much quicker, more efficient accessory changes.
There are lots of different hole configurations, so depending on the type of sandpaper you're using, the holes will always be in the correct position there for you. This, in turn, helps with dust extraction, pulling the dust away from the sand pad, preventing it from clogging up, which helps it last a lot longer.
You never need to worry about this machine running out of charge as it is powered by the mains.
This electric sander has 2 sanding modes and 5 sanding speeds, allowing you to choose the ideal speed and programme for the job. The type of sanding you can perform is selectable from:
Random orbit mode: for finish sanding and buffing. The motion of the pad is orbital action plus weak free-rotation, and can be stopped by exerting firm hand pressure on the machine

Roto-orbit mode: for coarse sanding and polishing. The motion of the pad is a combination of orbital action and aggressive forced rotation
Take a look at the BO6050 in action on Toolstop TV:
---
Makita BO6050J - What's its spec?

We've already covered a lot of spec on the Makita BO6050J, but take a look below at its main benefits:
Input wattage: 750W

Orbits per minute: 1600 - 6800 opm

Sanding strokes: 3200 - 13600 spm

Pad size: 150mm

Net Weight: 2.6kg
This sander is compact, lightweight yet powerful. It will get the job done to the highest standard, whether thats fine finishing work or rough sanding jobs. Makita have pulled through with this 150mm corded sander. And at Toolstop, it comes complete with 3 sanding discs, a dust nozzle and MakPac type 3 connector case!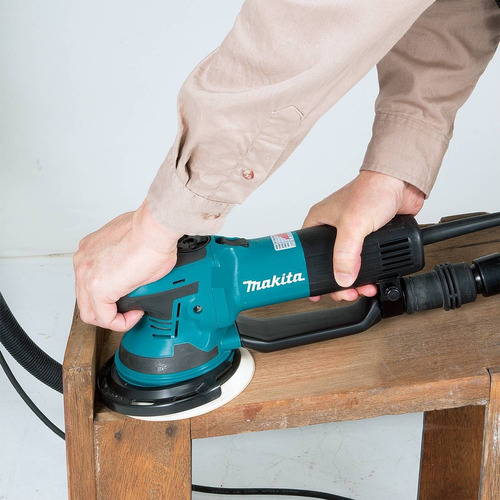 ---
So what do you make of the BO6050J? It's lightweight, compact yet up to the task. We think this corded sander is the ideal addition to any kit! Shop sanding accessories at Toolstop.
---
More Corded Sanders at Toolstop:
Explore the Toolstop Blog...