Posted by Katy | Toolstop on 5th Jan 2021
If you need quality, durability and strength, an Estwing Hammer is for you. This Toolstop Guide talks you through the different types of Estwing Hammer and what they are used for. Is an estwing framing hammer the one for you? Perhaps its an estwing brick hammer, To find out, read our blog
If you need quality, durability and strength, an Estwing Hammer is for you. This Toolstop Guide talks you through the different types of Estwing Hammer and what they are used for. Is an estwing framing hammer the one for you? Perhaps its an estwing brick hammer, To find out, read our blog

Seen on construction sites all over the world, Estwing manufactures some of the finest hammers on the market, and as you'd expect, we've got loads in stock for you to choose from. This short guide will take you through the main features, benefits and uses of a selection of Estwing hammers available to buy today at Toolstop!
---
We recently conducted a poll via Instagram to see if Estwing is our customers go to for hammers, or if they prefer to use a different brand. The results speak for themselves!
But what's so special about Estwing?
All Estwing hammers feature that lovely slim neck, designed to give you great aerodynamics; the hammer will fly faster and smoother through the air. This is vitally important to let you hit harder with less effort. The hammers are made from one solid piece of forged steel; no joins or welds that can break. The difference is in the head design and the grips, as we'll cover below.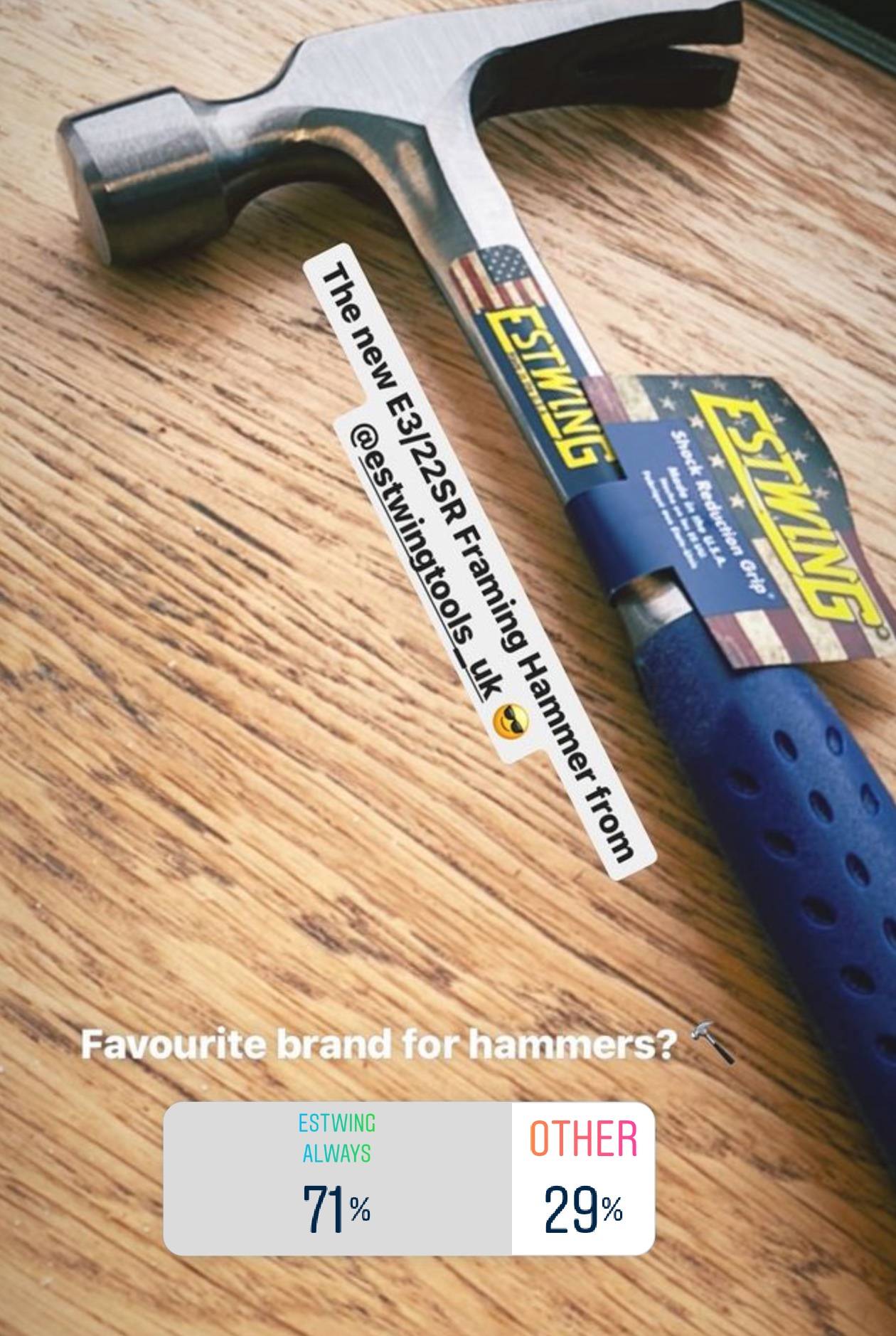 ---
Which Estwing Hammer for Finishing Nails?

You need an Estwing Claw Hammer
Estwing E20C Curved Claw Hammer with Leather Grip 20Oz
With its iconic handle made from pressed leather washers which are polished and double lacquered, this is a hammer that will always look great slung from your tool belt. But it's not just about great looks, the Estwing curved claw hammer is perfect for driving and removing common finishing nails, and features a smooth face.
At Toolstop you can find both the 16Oz and 20Oz model!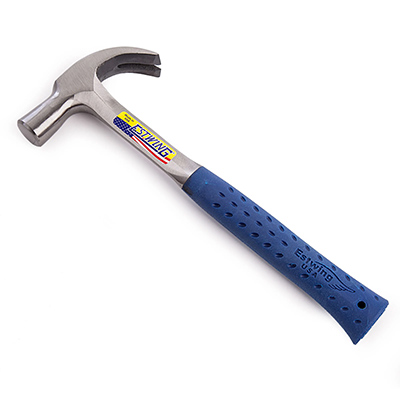 Estwing E3/28C Curved Claw Hammer with Vinyl Grip 24Oz
This is an English pattern headed hammer, and like all Estwing hammers is forged from one solid piece of steel. The grip is very 21st century, however, bonded to the steel during manufacturing and designed by Estwing to offer you the best possible levels of comfort due to the active reduction of vibration, Estwing call it the Shock Reduction Grip. This model is ideal for anyone battering in nails all day long.
Again, this hammer has a smooth face and the design of the head makes it perfect for bashing and pulling out common finishing nails.
At Toolstop you can find the 16Oz, 20Oz and 28Oz models!
---
Which Estwing Hammers for Framing Applications?

For framing applications, you need an Estwing Framing Hammer! See our top favourites below:
Estwing E3/20S Straight Claw Framing Hammer with Vinyl Grip
Framing hammers look different from curved claw hammers. Typically they have longer necks to give you more hitting power, and that's evident in the range of Estwing framing hammers we stock. They also tend to be a bit heavier than finishing nailers. Once again you'll find the Shock Reduction Grip wrapped around the single piece of forged steel; no joints or welds that could break or shatter.
Clearly, the big difference between curved and straight claw hammers is the shape of the claw.
A straight clawed framing hammer lets you do loads of extra tasks that a curved claw would struggle with, and that's partly because hammers aren't just designed for hitting nails. The straight claw on these Estwing hammers will help you in the demolishing stage of any job you're working on, including ripping up floorboards or even splitting lumber.
At Toolstop you can find the 22Oz and 28Oz models!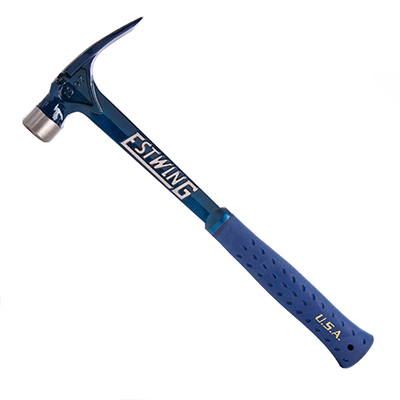 Estwing E6/19S Ultra Framing Hammer 19Oz
Very similar to its standard claw hammer cousin, Estwing also offers the ultra capabilities and specification, but in a hammer aimed at anyone undertaking framing applications. Yes, it has the additional nail pulling notch and magnetic nail starter in the head, which is forged, along with the long neck, from one piece of steel, wrapped around which is the aforementioned nylon shock resistant grip.
Again, this ultra hammer, of which we're stocking 15Oz, and 19Oz weights, is designed to be lighter but able to deliver a harder hit as a result.
---
What other Estwing Hammer do I need?

Estwing PC300G ProClaw Nail Puller 12in
So far all of the Estwing products we've looked at are for bashing in nails, along with all the other little jobs that a fantastic hammer will allow you to do. But what about lengthy spells pulling nails out? Yes, your Estwing hammer will manage this ably. However, we've got an Estwing product designed specifically to pull nails all day long, comfortably. Made from fine tool steel that's drop forged and tempered, then chrome finished for brilliant durability and rust-resistance. Wrapped around the steel is a cushioned grip, designed to allow you to grip the nail puller, whichever end of it you're using.
And yes, each end of the nail puller has a different shape of the claw that is sharp enough to get out embedded nails, or even nails that have "lost their head", while minimising damage to the wood.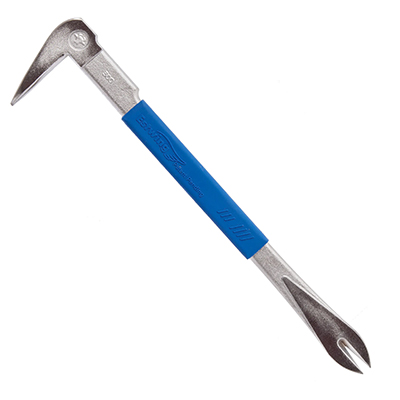 ---
We'd love to hear from you about your favourite Estwing hammer; how long have you owned it, and what asides from bashing nails do you use it for?
---
Estwing Hammers at Toolstop:
Explore the Toolstop Blog...