Posted by Katy | Toolstop on 15th Jun 2021
This Toolstop guide to Senco Nailers explains everything you need to know about the pneumatic nailer and Toolstop's top picks from Senco

Senco Nail Guns Arrive at Toolstop

The nail gun is a fastening tool designed to drive nails into wood or similar materials. They drive nails at a much faster speed than manual hammers are capable of and are usually powered by compressed air, gas or batteries. In this Toolstop guide, we introduce you to Senco Nailers, the range we have available and our top picks.
---
Senco began trading in Ohio in 1935. They entered the fastener business soon after in 1947 and grew rapidly with an increased demand for pneumatic tools and fasteners. Today, they are one of the best known manufacturers of nailers and fasteners and continue to lead the professional fastening systems industry with innovative new products often.
Did you know that in 1973, Senco entered the surgical stapler field and invented the world's first totally disposable, mechanical skin-closure system utilizing metallic fasteners?
---
There are a number of types of nail guns available on the market (brad nailers, finish nailers etc.) as explained in our guide to nailers blog.
Each trade and application requires a different type of fastener. This is because each one serves a specific purpose and is designed for an exact job.
We have recommended the best type of nailer/stapler for each trade. It's handy to note that some trades may need more than one type of nailer in order to complete all jobs:
| | |
| --- | --- |
| Trade | Recommended Nailer |
| | Upholstery stapler, medium crown stapler |
| | Brad nailer, narrow crown stapler, finish nailer |
| | Framing nailer, finish and brad nailers |
| | Roofing coil nailer or wide crown roofing stapler, medium-crown stapler |
---
Which Nail Gun? Toolstop's Range of Senco Nailers:

Toolstop are a proud stockist of Senco Pneumatic Nailers. Air nailers are built to deliver. They provide you with one of the fastest and most efficient fastening methods available. We have picked our top 3 and highlighted their main features, benefits and application usage below:
Senco FinishPro 18Mg Brad Nailer

Senco FramePro 601 Framing Nailer

Senco S65CNP SemiPro Coil Nailer
Senco FinishPro 18Mg Pneumatic Brad Nailer - Shop it now
The Senco FinishPro 18Mg is designed for finish & woodworking applications in cabinets, panelling and casing. It drives 1.2mm brads ranging in length from 16mm to 50mm. This model is a brad nailer so will fire 18-gauge nails.
Top Features:
Magnesium body is ultra light and durable

Oil-free motor eliminates oil carryover onto the work surface

Dual firing actuation
Specification:
Power Type: Pneumatic

Fastener Type: Brads

Operating Pressure: 70 - 120 (PSI)

Air Consumption (at 60 shots per min): 68.00 l/m

Fastener Gauge: 18 ga.

Fastener Length: 16-50 mm

Air Inlet: 1/4" Female NPT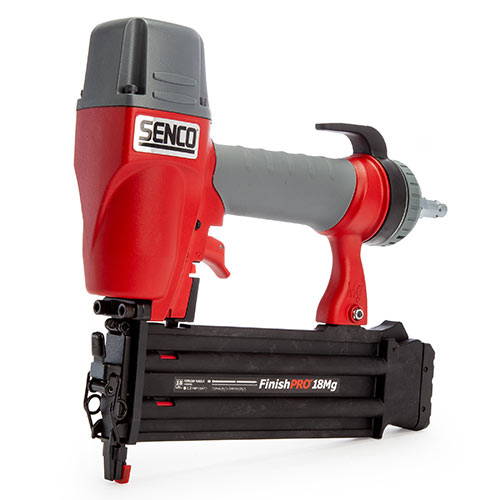 Senco FramePro 601 Pneumatic Framing Nailer - Shop it now
The Senco FramePro 601 is a framing nailer so is capable of handling large projects. It will drive a number of nails into thick materials with ease. Typical applications include framing, sheathing, truss building, sub-flooring and decking.
Top Features:
Selectable trigger actuation

Shorter, straight line 34° magazine for better line of sight and superior manoeuvrability

Well-balanced and powerful

Tool-free adjustable depth-of-drive control
Specification:
Firing mode: Dual

Air inlet: 3/8" female NPT

Operating pressure: 4.8 - 8.3 bar

Air consumption: (at 60 shots per minute): 283,2 l/m

Operating temperature range: -18 - 49 ºC

Magazine capacity: 70 pieces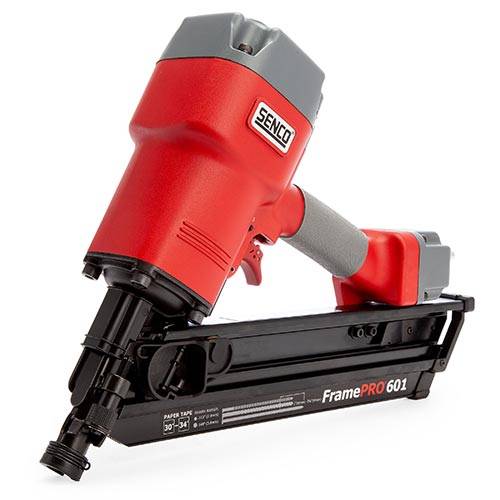 Senco S65CNP SemiPro Pneumatic Coil Nailer - Shop it now
The Senco SemiPro coil nailer, sometimes known as a roofing nailer is ideal for working on roofs. It will drive nails ranging in length from 32 to 65mm. Regular roofing nails cannot be used in this nailer, instead you must use nails that come on a coil.
Top Features:
Use it for sheathing/siding, timber frame constructions, fencing, sub-flooring, boarding and other wooden assembly work

No mar pad to protect your surface

High capacity, easy to load magazine

Quick clear jam release
Specification:
Fastener type: Coil nails

Air consumption (at 60 shots per minute): 220.00 l/m

Operating pressure: 4.9-8.3 bar

Fastener length: 32-65 mm

Collation angle: 15 º

Air inlet: 1/4" female NPT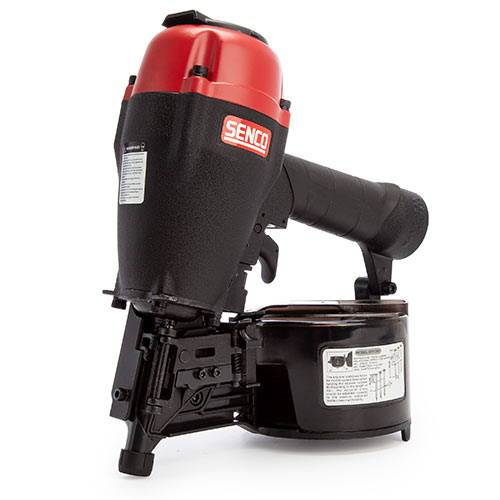 ---
What Accessories are Available?

Nailer accessories are just as important as the tool itself. Again, there are a variety of different types of nail, each of which serves a different purpose. We have explained the most common ones and their uses below. Shop all finish nails and staples.
Nails come in different sizes, so it is important to check that the ones you are purchasing will fit your machine. Typically, you can use any brand of nails in your tool, as long as they are the same degree as your nailer and are within the length set for your gun.
What are the best nails for a nail gun?
Brad nails: Brad nails are some of the most popular. They are very thin and small and are used with either a pneumatic or gas powered finish nailer.
Finishing nails: Finishing nails are similar to brad nails. They are used to put the final touches on a workpiece, such as skirting board and architrave as they only leave a small hole that can be easily filled in or painted over.
Framing nails: Framing nails are much larger and thicker as they are typically used for fixing larger projects such as walls, roofs and sub-flooring. They are best used with a framing nailer.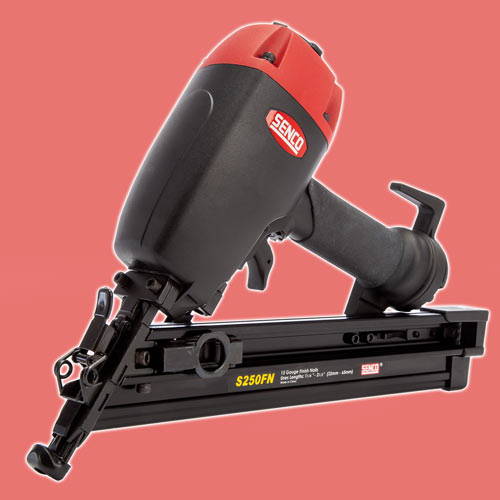 ---
That was our complete guide to Senco Nailers. Will you be adding one to your kit?
---
Shop Nail Guns at Toolstop:
Explore the Toolstop Blog...