Posted by Katy | Toolstop on 1st Jan 2021
Metabo have stepped it up a notch with their brand new LiHD Battery. These Metabo Batteries perform like no other, and are close to that of a corded machine. Work faster, smarter and easier with the Metabo Lihd Battery solution.
Metabo have stepped it up a notch with their brand new LiHD Battery. These Metabo Batteries perform like no other, and are close to that of a corded machine. Work faster, smarter and easier with the Metabo Lihd Battery solution.

Everything you need to know about Metabo LiHD Batteries

Introducing Metabo LiHD Batteries - Smaller, faster, lighter, stronger. The battle to have the best cordless power tools in your grip each day is one that has run for years, and as each year passes, you guys have had access to tools that run for longer, work smarter and are lighter – but more capable – in your hand.
Today the Power Tool Spy has gathered together some exclusive intel on what could be the next evolution in the cordless power tool universe, taking us to a world where our cordless tools have the same capabilities as corded ones.
---
Metabo LiHD Batteries – The Cordless Revolution?
We're used to seeing higher capacity lithium-ion batteries being launched year in year out by the main power tool brands. We've even seen Makita go from 3Ah to 5Ah 18v battery packs in just over a year!
For a while it seemed to us that 5Ah was the largest capacity we'd see in a traditional lithium-ion battery pack. And that appeared reasonable to us; the higher the capacity of the battery, the longer the charge time. Partner a 5Ah battery with a brushless motor cordless tool and you'll run all day(ish). What more do you need?
However, as almost seems inevitable, Metabo pushed the boundaries again being first to market with a 5.2Ah 18v battery back in 2013. And now they've done it again by launching an entirely new type of lithium-ion battery with a new matrix of capacities:
3.1Ah
5.5Ah
6.2Ah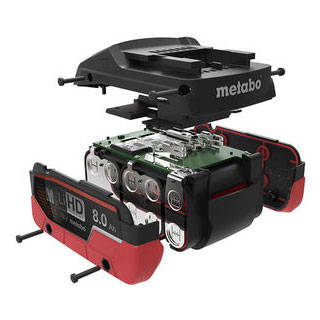 ---
All about the Metabo LiHD Battery

Yes, that's right, 6.2Ah of charge capacity in a battery pack. But as you'll see below, the LiHD batteries aren't about Ah capacity.
They're about powering higher capacity cordless tools for a corded experience.
This is what they told us:
"In the past years we followed the vision of the cordless construction site with a lot of innovative milestones. Longer lasting batteries and a very wide range of cordless power tools provides the end-users the security that they invest with Metabo in the 18 V system of the future".
Now our engineers have realized the next technological quantum leap of being independent from the power socket with a completely new development of LiHD-battery packs we will start a technological revolution and as the first brand we will exclusively enter into dimensions which has been unimaginable till now: up to 67% more performance and a longer runtime of up to 87% will set a complete new benchmark in the power tool industry.
---
Metabo LiHD Batteries – 5 Things You Need to Know

Ok, we're as sceptical about marketing-speak as any else is, so we've delved deep into all the market blurb to present you with the 5 mains points you need to know about these LiHD batteries:
---
#1 – Metabo Is Releasing New Tools to Take Advantage of LiHD
Metabo says that these new LiHD batteries are a "milestone along the path towards a cordless construction site". Over the next 12 months we'll see a new range of cordless power tools from Metabo which will benefit from the LiHD battery technology and will give you the power and performance of a corded tool.
For example, we'll be seeing a new 36V cordless grinder that be as powerful as a 2400W mains-powered grinder. Which leads us on to point 2.
#2 – LiHD Stands for Lithium-Ion High Demand
These new batteries have been engineered and designed to allow you perform "High Demanding" applications like grinding, cutting, drilling huge holes and driving massive screws without needing to be tethered to the mains
The batteries, when partnered with the new cordless tools, will deliver more speed and more power, while running up to 87% longer and offering 100% longer life-time.
We think that's incredible and we can't wait to see these new tools in the real-world. Check out the video below which was shot in Germany at the Metabo LiHD Battery launch event:
---
#3 – Metabo LiHD Batteries Are Lighter and More Compact
While Metabo don't anticipate people switching up to these new batteries to use with their existing Metabo cordless tools such as drill drivers, you will be able to. That's because the new batteries are 100% backwards compatible with all of Metabo's 18V cordless range.
Opting to upgrade your existing li-ion battery for a new LiHD unit will offer you better ergonomics. For example, the 3.1Ah LiHD battery will give you the same performance as the 4Ah pack, but it's lighter and more compact.
But these batteries only really come into their own when they're paired with tools such as grinders, saws and high-end combi-drills which require more power to perform their typical applications.
#4 – LiHD Batteries Feature Better Cells and Power Rails
Any cordless power tool relies completely on the transference of power from the battery's cells into the switch and the motor. The poorer the quality of the cells means less energy available for the motor. And if the contact and cell connectors – the parts that connect your tool to the battery to allow the power to be transfered – are inadequate, then the tool will struggle to draw the power from the cells to do the job
The LiHD batteries have been entirely re-engineered to include a new electromechanical design which features massive power rails and enlarged cell connectors to ensure that all of the useable energy in the battery is available for the tool. This equates to 67% more power available from the battery to the tool. Hence the ability to perform corded tool-like applications.
#5 – All of Metabo's Checks and Balances Are In Place
We've come to expect from Metabo that the LiHD batteries are fully loaded with all the safety features we depend upon. Ultra M Techology perfectly manages the interface between the machine, battery and charger, and of course, they're backed up by Metabo's 3 year warranty.
---
We want to hear your thoughts on this big announcement from Metabo. What tools would you like to see take advantage of this new battery technology?
---
Top Selling Metabo Power Tools at Toolstop:
Explore the Toolstop Blog...