Posted by Katy | Toolstop on 9th Apr 2021
In this Toolstop guide we explain which circular saw to use for which job and recommend our favourites choices from each brand. Who makes the best cordless circular saw? This guide tells all
This Toolstop guide has been created to show you which circular saw is best suited to you as well as who makes the best cordless circular saw. No matter if you are just starting out in the trade or are a trained professional, you can benefit from this guide. We explain which circular saw to use for which trade and job and recommend our favourites choices from each brand.
Which Circular Saw Should I Choose and Why?

A circular saw is the perfect power tool for cutting straight, clean and true. Use one on heavy timber, sheet materials or man-made boards like MDF and you'll see how quickly and easily you can make cuts that are perhaps messy or cumbersome with other saws.
For most of us, the idea of buying a circular saw starts with one question; corded or cordless? This Toolstop guide discusses the benefits of owning a cordless circular saw, what to look out for when choosing one and which is the best on the market.
---
What are the Benefits of a Cordless Circular Saw?

Corded circular saws give you the ability to saw all day long without having to worry about recharging batteries. However, they come with the disadvantage of potential cable trip hazards and limited freedom to move around the workshop. Going cordless with your circular saw will open up a whole new world of cutting opportunities! We understand, though, that choosing a cordless circular saw can be daunting, so we have put together this Toolstop buying guide on how to choose the best cordless circular saw for you based on the power you need for the applications you typically undertake. That's why we've compiled this guide to buying the right cordless circular saw.
We'll cover:
Cutting Capacity, Cutting Depth and Bevels

Speed and Control

Extra Features

Batteries
We've included a few comparisons in each section and a table where you can, at a glance, easily compare the functionality of the cordless circular saws in our guide.

---
What to Look for when choosing a Circular Saw
The main things you should be looking out for when choosing a circular saw are cutting capacity, cutting depth and bevels. The capacity and depth of your cut with a circular saw is based on the size of the saw's blade. In the case of our cordless circular saws, the blade is a standard 165mm.
Pay close attention to the type of blade supplied with – or available for – your cordless circular saw. Using the correct type of blade for the application you're undertaking is essential if you want to get the most out of your circular saw. It's also essential for your health and safety. See our range of circular saw blades.
The depth of cut achievable from your cordless circular saw varies from manufacturer to manufacturer, so look out for the maximum cutting depth at 0°. That's how deep you'll be able to cut when the saw isn't being used to cut a bevel, which is achievable if the saw has an adjustable base plate.
Not all circular saws are created equal in this regard.
For example, one saw may not cut as deep as another at 0° but will cut deeper when at a 45° bevel. So, what sort of cut matters more to you; cutting straight into the material, or at an angle? Choose your circular saw accordingly.
Speed and Control: The faster the motor can turn the blade, the more control you have over the cut. That's about all we can say about this! Look out for the revolutions per minute (RPM) of the cordless circular saw you're interested in.
Extra Features: Most of us like some nice extra features and benefits to our power tools that the manufacturer has built in to help us get the job done safer etc.
The motor on a circular saw is liable to be placed under extreme stress if you're cutting long pieces of hard timber. So look out for safety features built into the motor, such as protection against burning the motor out, fans to keep the motor cool or advanced braking systems that immediately kill the motor and stop the blade in an emergency.
Other features like LED job lights are useful, as is the exclusion of a riving knife, the absence of which makes plunge cuts easier.
Look out, too, for ergonomic handles and the overall weight of the saw. These are key ways to determine how long you'll be able to use the saw before your hands and arms get tired.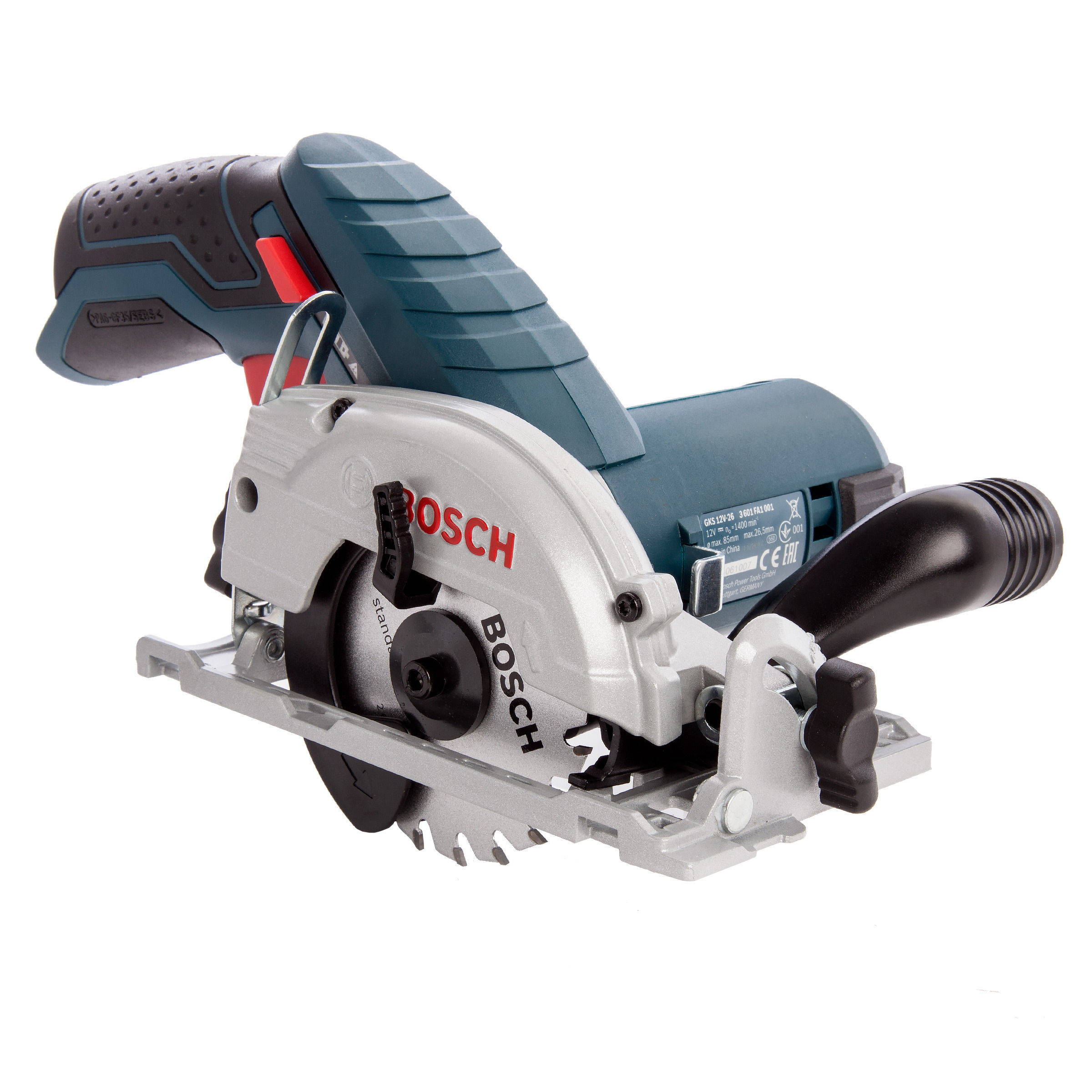 ---
Who Makes the Best Cordless Circular Saw?

It used to go without saying that cordless circular saws couldn't match up to the run times achievable by their corded cousins. However, with new and improved battery technology, most new cordless circular saw will offer more than enough power for professional cutting jobs.
The obvious advantage to running a circular saw from a battery is portability; work wherever you need to without being tethered to a power supply.
When choosing your cordless circular saw, consider the 18V lithium-ion battery platforms you've already invested in; having a spare 18V battery on charge while you work is an obvious bonus.
---
What is the Best Cordless Circular Saw?

Below we have listed and compared some of the best battery powered circular saws from all the leading brands. Remember to take into consideration the points discussed above when choosing a circular saw.
---
So which is the best professional circular saw? We hope this Toolstop guide has helped make your mind up on which circular saw to buy. If you do have any more questions, feel free to get in touch!
---
Bestselling Cordless Circular Saws at Toolstop:

Explore the Toolstop Blog...