Posted by Katy | Toolstop on 16th Sep 2020
Changing an SDS Chuck Mechanism can be daunting if you have never done so before. That is why we have created this handy Toolstop guide. If you want to know how to change a drill chuck, to be precise how to change the chuck on an sds drill, follow the given steps to be able to do so with ease.
This Toolstop Buying Guide gives you a run down on some of the industries most popular and loved Corded Angle Grinders. Which is the best Angle Grinder you ask? Keep reading to find out!

Which is the best Corded Angle Grinder?

At times only a corded power tool can do the jobs we need them to. Yes, cordless is the way many power tools are heading, but for a tool like an angle grinder being tethered to a constant power supply is a must. If you're looking for a cordless angle grinder, click here for our comprehensive guide.
In this guide, we'll take you through what you should consider before buying a corded angle grinder and we'll present you with our recommendations for grinders based on the diameter of the discs that fit them.
What is an Angle Grinder used for?

An angle grinder will serve many purposes on the jobsite, from cutting through concrete and steel to removing rust and burrs from metal to buffing and polishing steel. Weigh up the types of applications you intend to perform with your angle grinder, then make a buying decision based on the capabilities, capacities and features of the grinder you're interested in.
While price is often a key factor when buying any tool, spending a bit more cash to get the type of grinder with the spec and features that will allow you to work safely is important.
One of the advantages of owning an angle grinder is the ability to fit a variety of different types of discs to it in order to be able to perform these different jobs, but it's important to understand the capacities and limitations of the disc you're going to be using. Click here to read our guide to making sure you're staying safe with the discs you'll fit to your grinder.
It's worth noting that while grinders capable of higher RPMs are going to allow you to perform heavier applications, it also comes at the risk of injury. So consider any special features related to protecting you – and the tool – from misuse, such as dead-mans switches, the type of disc/wheel guard supplied, anti-vibration side handles, etc.
As a corded angle grinder is capable of running for long periods of time, the size of the grip and the weight of the tool are other important factors for you to consider. Clearly, a grinder intended for large cuts, for example, will be a powerful beast, that means it'll often be heavier than a grinder with a smaller disc capacity.
Therefore if you're only going to be performing light tasks with your grinder, a smaller model – with a smaller diameter disc – is probably the way to go. It'll be lightweight and easy to hold, and likely more manoeuvrable and controllable into the bargain.
Alternatively, while a grinder with a small disc diameter will typically be light and easy to hold, using it on large-scale projects will quickly become tiring for the simple reason that it will take longer to get the job done than a grinder with a larger disc diameter, even though such a tool may be heavier to hold.
A grinder with great ergonomics will be important, and any efforts on the part of the manufacturer to reduce the amount of hand/arm vibration transmitted to you is another feature to look out for.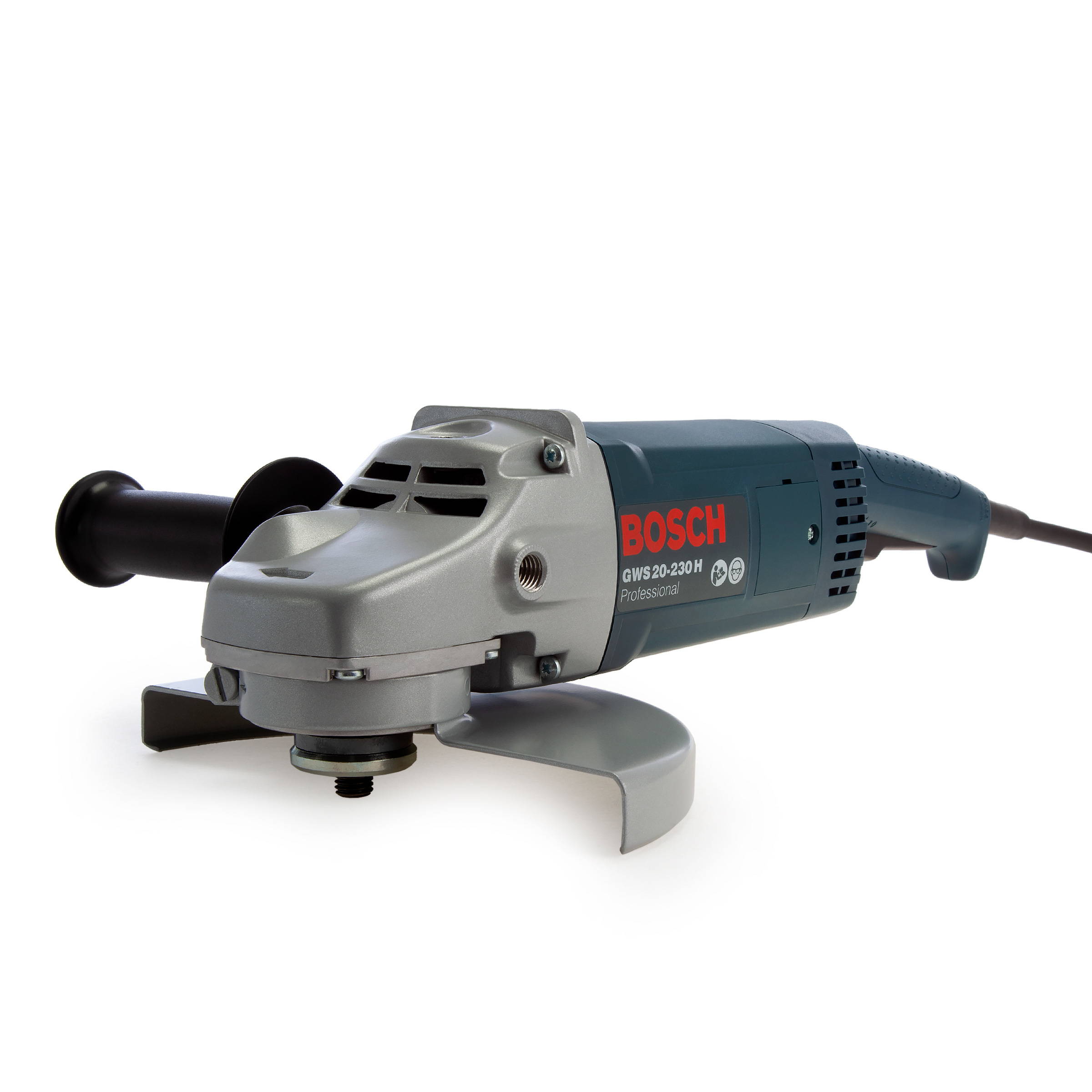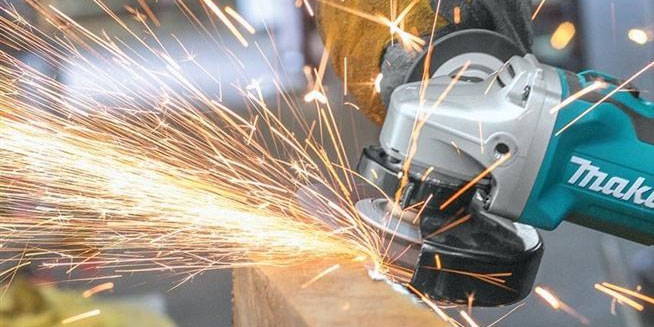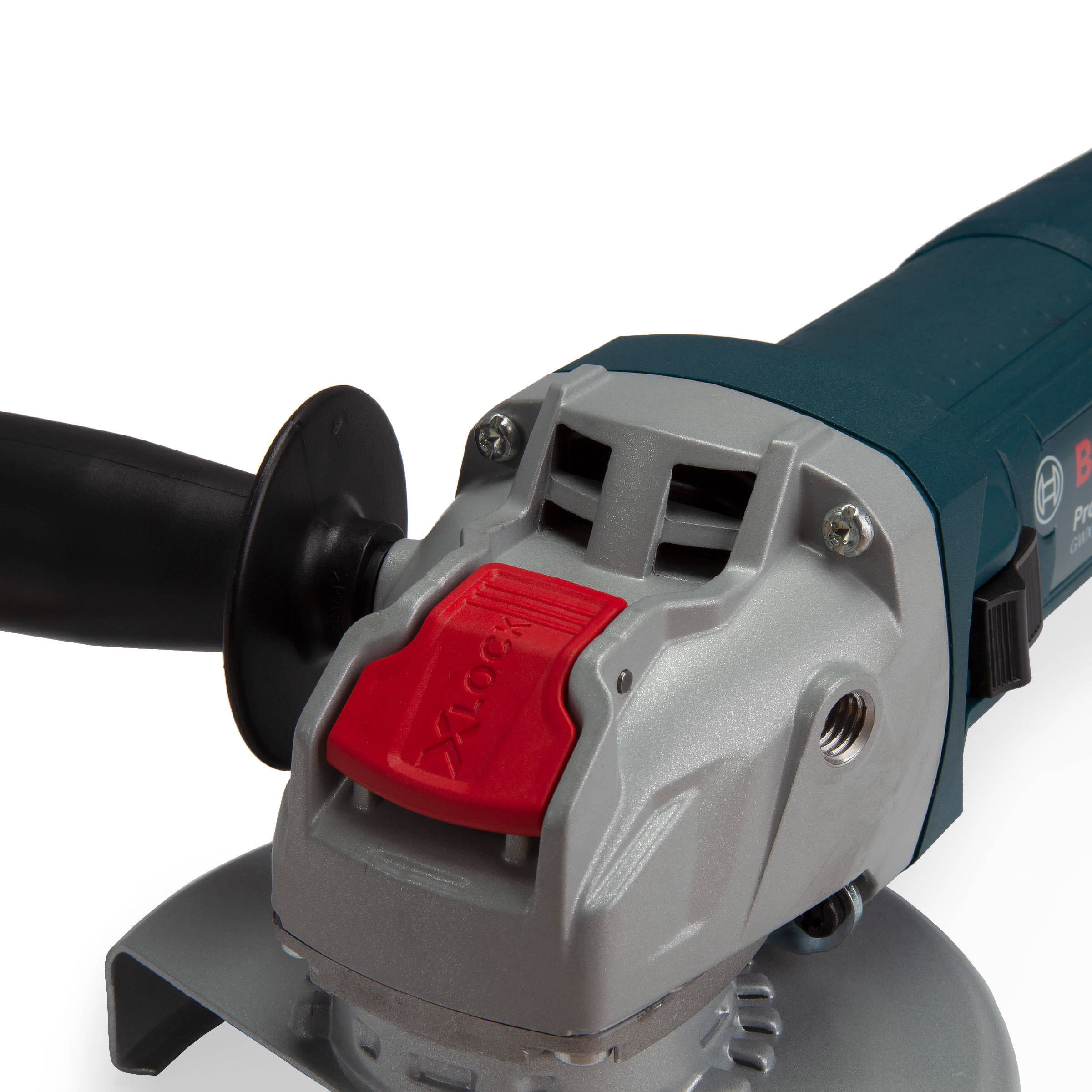 Below is our list of recommendations of corded angle grinders:
Whats the Best 115mm Corded Grinder?

115mm Angle Grinders are ideal forpolishing and grinding.
115mm Grinder
Key Specification
Key Features

Bore Diameter: 22.23 mm

Wheel diameter: 115 mm

Input Wattage: 1,400 w

No Load Speed: 2,800 - 11,000 rpm

Anti-restart function

Constant speed control

Soft start

Overload protection

Variable speed contro

"Super Joint System II" absorbs vibration

Tool-less wheel cover is adjustable to any position

Wheel Diameter: 115mm

Hole Diameter: 22.23mm

Power Input: 600W

Overall Length: 254mm

Powerful 600W motor

Large fan and optimized air flow for efficient motor cooling

Smallest grip circumference in its class for more comfort

Wheel Diameter: 115 mm

Rated input power: 750 W

Output power: 450 W

No-load speed: 11000 rpm

Torque: 1.7 Nm

Suitable for any application

Powerful motor with good overload capacity

Twist-proof guard

Restart protection prevents unintentional start-up after power supply interruption

Auto-stop carbon brushes protect the motor
Whats the Best 125mm Corded Grinder?

125mm Angle Grinders are ideal for cutting and polishing metal and sanding wood where a dedicated sander isn't available.
125mm Grinder
Key Specification
Key Features

Bore Diameter: 22.23 mm

Wheel diameter: 125 mm

Input Wattage: 1,400 w

Net weight: 2.5 kg

Anti-restart function

Constant speed control

Soft start

Electronic current limiter for overload protection

Variable speed control dial

"Super Joint System II" absorbs vibration caused by grinding

Wheel size: 125mm

Bore Size: 22mm

No Load Speed: 2800-11000rpm

Input Wattage: 1400w

High power 1400w anti-dust motor

Ideal for prolonged use in demading applications

Variable speed trigger

Soft start

Constant speed under load

Double insulated for added safety

Bore Diameter: 22 mm

Spindle Size: M14x2mm

Max Wheel Diameter: 125 mm

Input wattage: 1050 w

No Load Speed: 11000 rpm

High dust proof construction with protection of motor

Soft start

Large trigger

Double insulated

SJS - protection of gears ensures longer lifetime
Whats the Best 230mm Corded Grinder?

230mm Angle Grinders are ideal for cutting metal, sanding wood where a dedicated sander isn't available and cutting masonry when a diamond tipped blade is fitted.
230mm Grinder
Key Specification
Key Features

Wheel size: 230mm

Bore Size: 22mm

Spindle size: M14 x 2mm

Wire Cup Brush: 110mm

No Load Speed: 6,600rpm

Input wattage: 2,000W

Net Weight: 4.7kg

Outstanding durability

Increased heat resistance

Superior anti-dust structure

Machined bevel gear for strength

Soft grip for more comfort and control

Wheel Diameter: 230mm

Power Input: 2000W

No-load Speed: 6600/min

Arbor: 22mm

Spindle Thread: M14 x 2

Length: 469mm

Excellent overload durability: Higher than competitors

Labyrinth construction for dust protection

Lighter in weight than predecessor

Excellent cooling efficiency for increases motor durability
We'd love to hear from you regarding the corded grinder you use and benefit from, and also if you've got any questions about what the best corded grinder would be for you
Best Selling Corded Grinders at Toolstop
Explore the Toolstop Blog...