Posted by Katy | Toolstop on 14th Oct 2021
Dewalt introduces NEW POWERSTACK Batteries! This new innovation offers the next dimension in power. Dewalts most powerful, compact and lightweight battery to date.

Dewalt Powerstack - The Next Dimension in Power

Dewalt has just teased us with the unthinkable... POWERSTACK Batteries! And they claim that they provide more power with less weight and size.
Dewalt's new Powerstack batteries offer the next dimension in power. You can expect up to 50% more power in a 25% more compact form and 15% lighter weight. Powerstack is Dewalt's most compact, most powerful and lightest weight battery to date.
---
Performance Like You've Never Seen Before...

Part of the 18V XR range and compatible with all existing 18V Dewalt tools, Powerstack utilizes revolutionary stacked pouch battery cell technology, and they are the first brand in the construction industry to do so!
Stacking technology provides the advantages of less internal resistance, longer life, and better utilization of internal space. This means you can make the packs smaller with the same amount of power output. What's not to like?
You can expect 2x the lifetime based on charge cycles vs. Dewalt 2.0Ah Batteries (DCB183) or lower.
Dewalt's breakthrough innovation will move the industry forward...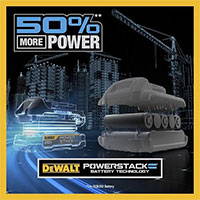 These new compact batteries will deliver 50% more power Vs the existing DCB183 and feature stacked pouch battery cell technology.
Maximize space in your toolbox and get into hard to reach areas with these batteries. The new Powerstack battery is 25% smaller than the DCB183.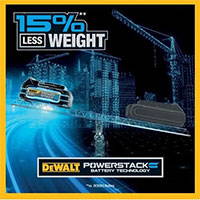 Weighing 15% less in weight compared to the DCB183, these batteries are ideal for working overhead.
---
Packed With Power, Works in Tight Spaces, Won't Weigh you Down

Due to their lighter weight, you can expect less fatigue during prolonged applications with these battery packs. Their compact design also enables easier access into hard to reach areas and more precision in tedious jobs. Not to mention their fast performance and capabilities already experienced in the 18V XR range.
"Our groundbreaking dependable lithium-ion battery pack represents a new threshold of cordless power tool performance, helping to further realize the full potential of the cordless jobsite of the future. The Dewalt POWERSTACK battery is a significant feat of engineering that reflects a long history of innovation leadership from Dewalt, as well as our relentless pursuit to provide our customers with the best cordless power tool experience on the market." - Jaime Ramirez, Executive Vice President & President of Global Tools & Storage for Stanley Black & Decker.
---
FULL 18V XR Compatibility

No need to buy new tools (although who can resist new Dewalt?!), the new Powerstack batteries are 100% compatible with all existing tools in the Dewalt 18V XR range!
The 18V XR Dewalt POWERSTACK Compact Battery works with the complete line of 18V XR tools and chargers.
Other features of the Powerstack battery include an LED fuel gauge to show the battery's state of charge and a rubber overmold for impact resistance.
---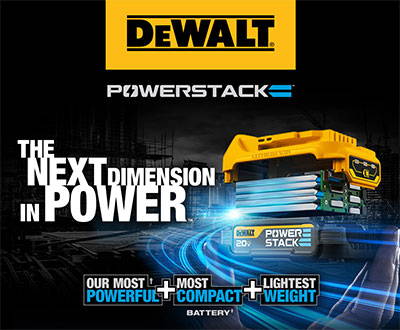 Coming early 2022! Subscribe to our newsletter and follow us on social media to be notified as soon as they land!
---
Shop Bestsellers From Dewalt:
Explore the Toolstop Blog...