Posted by Katy | Toolstop on 4th Aug 2021
This Toolstop guide will talk you through How to Drill into Brick and What Drill Bit to Use for Brick. Using the best drill for the job is vital, but equally using the correct drill bit for the job is essential. That is why we are here to show you How to Drill Masonry and the safety that goes along with Drilling into a Brick Wall. Keep reading to find out more!

Drilling into and through brick differs slightly from drilling wood. This is because masonry is so much tougher and dense. In this short guide, we'll explain the easiest, most efficient way to drill into brick and masonry, what drill bits you should be using for the job and other tips to consider along the way.
We'll cover:
The drill

The speed

The bit

How to drill through brick step by step
Before reading our guide, it's worth taking a bit of time to review how to stay safe when you drill masonry, protecting yourself from the harmful dust you'll be creating.
---
What Drill to use for Masonry
It's imperative that you use a drill designed for making holes in stone, concrete or brick. That means you'll need a drill with a hammer mode. Failure to use a drill with hammer function will result in the damage of your tool, or it simply not being able to get the job done.
When in hammer mode, your drill will rotate the bit but will provide short, rapid hammer thursts to pulverise the substance you're drilling into at the same time. This actions breaks the masonry as you drill, allowing the drill bit to bore into the hard workpiece.
A combi drill features hammer mode, so this is an ideal workhorse for around the job site, allowing you to drill bigger holes into wood, or even into steel. And because of the hammer mode, you'll be equipped to make holes in masonry, too.

Check out our drill buying guide to get a sample of the drill we recommend you consider.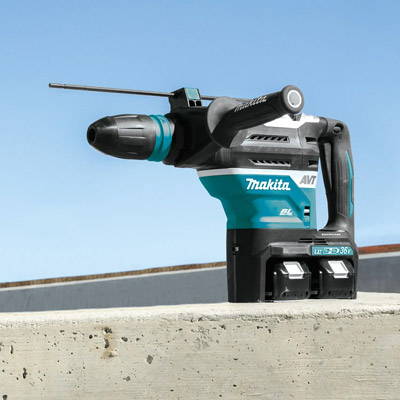 ---
Obviously a lot of friction is caused when drilling into concrete, brick or masonry. Therefore, it's important to keep the RPM of the drill bit as low as possible during use to prevent the bit from over-heating.

A good quality drill will have features that will help prevent the motor from over-heating or burning out, but it's up to the drill operator – ie. you – to make sure the drill bit doesn't over-heat or bind up.
Select your drills lowest speed. And be sure to clear the dust as you drill by easing off on the trigger and withdrawing the bit a few times before recommencing drilling.
---
What Drill Bit to use for Brick
As discussed already, using the best drill for the job is vital, but equally using the correct drill bit for the job is essential. Available at Toolstop, you can find drill bits specifically designed for masonry and brick.
The difference between these drill bits and normal ones is that they are designed for drilling through much tougher materials. They often have tungsten carbide tips to help them stay sharper for longer and a flute design for more effective dust removal.
Masonry drill bits will provide neat, precise holes without cracking the brick work, but they need to be used at much slower speeds than standard HSS drill bits. This is because they heat up much quicker. They come in all shapes and sizes, some with extremely long working lengths to get through both layers of brickwork in a cavity wall.
When choosing a drill bit for masonry, remember to pick one with the correct shank to fit your machine. If you are using an SDS hammer drill, you must opt for an SDS plus drill bit for masonry. Toolstop stocks loads of masonry drill bits. We love the Bosch CYL-3 range. These drill bits for brick and masonry provide good dust removal and reduced friction and are compatible with cylindrical shank systems for all corded or cordless impact drills.
---
How to Drill Through Brick - Step by Step
Now onto the reason you're here; how to properly drill into brick. Follow our simple steps below:
Mark out where you want to drill the same way you would for any other hole

Select the best speed and mode for the application as discussed above

Slowly start up your drill and allow it to make a start on drilling the hole. Don't push too hard as this will heat up the bit too quickly

Once the hole is started and it can't wander off, you can start to build up the speed

Move the drill bit back and forth to clear the dust and debris out of the hole. This prevents the flutes from getting too clogged up

Once you have reached the desired drill depth, keep the drill spinning to clear the remaining dust and you are done

You may now insert a rawl plug into the hole if necessary
Rawl plugs are "used to enable the attachment of a screw in material that is porous or brittle or that would otherwise not support the weight of the object attached with the screw".
---
Top tips to remember when drilling brick:
When drilling brick, ideally you want to use the slowest possible speed that will get the job done

For soft masonry, use the slowest speed setting and don't turn on the hammer action, but for hard masonry, choose a slightly faster speed and activate hammer action

If the surface of the brickwork is smooth, you may want to use a nail punch to create a starting point for your bit. This will prevent the drill bit from wandering

Let the drill do the work. Use the side handle if your drill is supplied with one. Do lean into the drill as it works, but without forcing it, remembering the above step about clearing the dust
We have included a short video on how to drill brick with an SDS drill. This will help you to visualise the process:
---
That is how to drill through brick and masonry with ease. By following these simple steps. you will be able to drill multiple holes over.
---
Shop Masonry Drill Bits at Toolstop:
Explore the Toolstop Blog...