Posted by Katy | Toolstop on 5th Mar 2021
Have you ever wondered what is the best way to paint a fence? Or how to paint a fence fast? We have the solution for you. The Black and Decker DHVLP is your answer. This article will show you how to paint a fence with a sprayer and how to paint a fence in general as well as some other tips and tricks along the way. Painting a fence will no longer be a chore with this top of the range tool!

How to Paint a Garden Fence

Though relatively straightforward, painting fences, decking, and garden furniture can be one of those jobs even the most diligent among us gets a mental block about.

Why? The time it takes, the fiddliness of the job and the mess you invariably make.
Well, we reckon we might have found the all-in-one solution for painting fences, decking and garden furniture. This Toolstop guide explains the fastest and easiest of ways to paint your garden fence and furniture, as well as tips and tricks you should follow to get the best results every time.
---
Preparing to Paint a Fence

It goes without saying that you want to pick a dry day to paint your fence. Your best bet is during the spring/summer months where temperatures are at their optimum and wind speeds are low. This will allow the paint to dry out as quickly and evenly as possible whilst reducing your chances of spraying more than your fence. If it has rained recently, make sure to wait for your fence to dry out fully again before painting.
What is the best fence paint?
Besides from colour and brand, we recommend choosing a weather resistant paint for the job, or one that will prolong the life of your wood and time spent between re-painting. If you are using a paint sprayer rather than brush, you must also check that the paint is compatible.
---
How to Paint a Fence Fast

There are many ways to paint a fence, the most obvious being with a paint brush or roller. Whilst this will do the job, and will allow you to get neat and precise results every time, it can be extremely tedious and time consuming, especially for larger projects. If you do choose to paint your fence or garden furniture by hand, be sure to follow the direction of the wood grain as this allows you to cover a larger surface area quicker, and will result in a smoother finish.
A faster solution to using a paintbrush, and a method we swear by, is to invest in a paint spray gun. Did you know that they are up to 10 times faster than using a standard paint brush? Depending on the size of fence you're working with, you might want to take us up on the offer! If so, we have exactly the solution for you...
---
Bosch PFS 2000 Paint Sprayer - Is it the Ideal Solution for Painting Fences?

Paint sprayers are the ideal solution for painting longer and larger fences as they can cover the area quickly and more efficiently, not to mention with less effort.
What are the key benefits of painting with a sprayer rather than a brush?
First off, non-stop painting action!
Our top choice for paint sprayer is the Bosch PFS 2000. This paint spray gun has a large 800ml paint container which allows you to cover a huge surface area before having to think about refilling. It has a 3 level adjustable paint nozzle for horizontal, verticle and circular spraying so you can adjust it to the mode most suited for the size and style of fence.
Even better, it's not just for use on fences and decking. Use this model indoors, too!
It applies paint evenly at 1.5 m²/min for small to medium indoor and outdoor projects, and cleaning up after using it is easy. Simply unscrew the cannister, pour the paint or stain back into the tin, then run the container under the tap to get it ready for the next job.
Though it has 3 precision nozzle settings, always be sure to cover up areas like plants and slabs that you don't wish to be splashed with paint as you cannot control things like the direction of the wind.
The Bosch PFS 2000 is powered by the mains, so doesn't require any pumping before use. Simply choose your nozzle setting, position yourself roughly 20cm away from the fence or object you're spraying, power on and you're good to go.
Another great addition to this paint sprayer is its ConstantFeed function that ensures the spray gun receives a constant and steady supply of paint in every position.
See how it works in this exclusive video:
---
The Bosch paint sprayer, or a simple paint brush, can also be used to paint decks. But we have come across a genius hack that we think you should know about! Believe it or not, one of the quickest and easiest ways to paint decking is with an old sweeping brush! Toolstop has a range available if you don't already own one. Simply pour your paint out into a tray, dip your brush in and get to work. Sweep back and forth as you normally would, and watch as it paints in all the gaps with ease.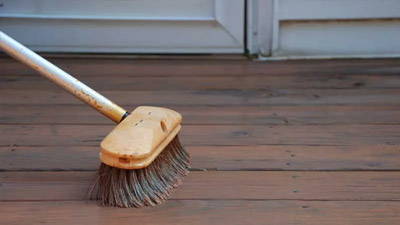 ---
Yes, it's a cliche, one that manufacturers trot out at every opportunity, but we really do reckon the PFS 2000 is going to save you time, effort and money. So, this weekend, what's putting you off getting that fence, those chairs or the deck ready for summer with a fresh coat of paint or stain?
---
Explore the Toolstop Blog...