Posted by Katy | Toolstop on 27th Apr 2021
Get the lowdown on M Class Dust Extraction from the Toolstop Blog. We run you through the importance of m class dust extraction on the job site and some of the top products we have available.

What is M Class Dust Extraction?

Controlling dust is imperative on every job site since the HSE in the UK has laid down more stringent guidelines. This isn't just for the sake of it. Dust is harmful. It's as simple as that. And M Class Dust Extraction is the answer.
In this Toolstop Guide we're going to cover M Class dust extraction and answer 3 important questions:
Why do I need M Class Dust Extraction

What is M Class Dust Extraction?

M Class Dust Extraction – What equipment is available?
---
Why do I need M Class Dust Extraction?

The HSE recently published figures which states that around 8000 people each year in the UK alone lose their life due to cancer caused by inhaling hazardous dust particles. In addition, around 39,000 people each year suffer from respiratory health issues due to inhaling dust particles. Let's put that first number into perspective: in the UK in 2015, 1732 people were killed in road traffic accidents. Therefore, you're almost 5 times more likely to die from harmful dust inhalation at work than you are in a car crash.
To quote the HSE's guidelines on dust control:
"Regularly breathing construction dust can cause diseases like lung cancer, asthma, chronic obstructive pulmonary disease (COPD – which includes emphysema and other breathing difficulties) and silicosis. Silica is the second biggest killer of construction workers after asbestos."
As if these shocking numbers weren't enough of a deterrent, the HSE will issue fines of up to £2000 where insufficient dust control isn't being used.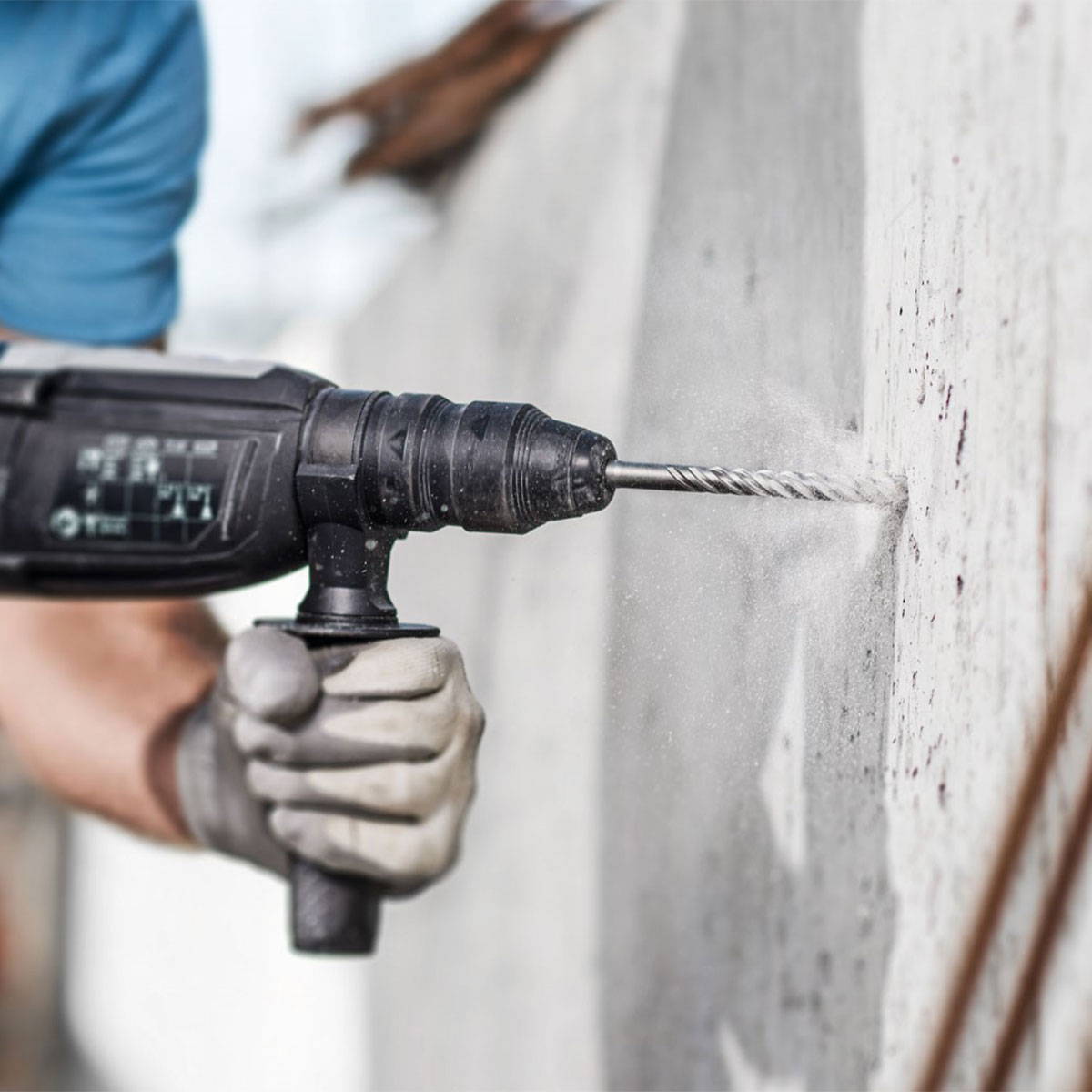 You are almost 5 times more likely to die from a respiratory illness due to dust inhalation than in a car crash.
So, what jobs are most likely to create harmful dust particles, which could result in lung problems or even death? Again, according to the HSE:
"Some of the most common construction jobs create high dust levels. Because these jobs often involve the use of power tools like cut-off saws, grinders, breakers and sanders. Therefore there is a legal duty for employers to prevent or adequately control worker exposure to construction dust. On-tool extraction is an effective control for this dust and will reduce the risk of ill health."
Sanding, drilling in masonry, regular drilling and more all require efficient dust extraction to be used, and it isn't just to keep the place tidy (though this is an added benefit). Let's consider the difference between the classes of dust extraction and why opting for a Class M dust extractor is the way to go.
---
What Does M Class Dust Extraction mean?

When you're choosing a dust extractor, paying attention to the classification of the filter system is important. In the UK there are 3 classes in this regard:
L Class: ≤ 1.0% Dusts with maximum allowable concentrations (MAC) > 1 mg/m³
M Class: < 0.1% Dusts with maximum allowable concentrations (MAC) ≥ 0.1 mg/m³
H Class: < 0.005% Dusts with maximum allowable concentrations (MAC) < 0.1 mg/m³
But what is the difference between each class rating of dust extractor and which is best?
The L, M and H stand for Low, Medium and High, respectively.
L Class dust extractors are usually the most affordable option, and it can make sense for many tradespeople to decide to pick one up for their kit. L Class is fine for when you only work on soft wood, as L Class is virtually what's found in a typical domestic vacuum cleaner. They're designed for trapping the sort of dust that won't do you any harm in the long run.
As you can see, though, from the figures above, M Class traps – ie. doesn't allow back out into the air – 99.9% of dust. In other words, it's significantly more efficient at keeping harmful dust particles from entering back out into the air you breathe. An M Class extractor won't necessarily have a higher rate of suction than an L Class one, but the filtration system is more efficient, and the unit will sound an alarm when the filter is becoming clogged. This way you will always be on top of emptying the tank.
A key feature to look for when choosing an M Class dust extractor is an anti-clogging function. You'll notice this working to help prevent the filter from clogging up; listen for a distinct banging sound as the filter is internally "thumped" to de-clog it.
M Class dust extraction is the minimum rating allowed on site by HSE guidelines. M Class dust extractors are vital for use with hardwoods, board materials like MDF or when working on brick or concrete. The latter two, in particular, require M Class extraction as the minimum allowed level of dust control per the HSE's guidelines.
---
Why Do I Need M Class Dust Extraction?
If you can see dust, chances are you're breathing it in. Exposure to harmful dust can cause serious long term damage, it's as simple as that. That is why we stress the importance of Class M dust extraction.
---
M Class Dust Extraction – What Equipment is Available?

At Toolstop we stock a huge variety of dust extractors to keep you safe, as well as keep the workspace tidy. You can find L Class, M Class, H Class and regular domestic vacuum cleaners all available for next working day delivery. Below we have highlighted 3 of our top picks for M Class Dust Extractors for you to take a look at their main features and benefits.
There are also a lot of additional vacuum accessories available on the market today that make dust extraction a whole lot easier. Many tools these days feature built-in dust ports that allow you to connect your vacuum directly to your power tool, or power take off which powers up your dust extractor as soon as you operate your tool. Both of these features are great additions as they eliminate harmful dust from entering the air.
Key Features:
H13 HEPA rated filter, enabling 99.9% filtration efficiency for compliant and safe dust extraction

Built in extraction velocity monitor works tirelessly to guarantee you optimum suction and airflow

Alarm sounds to alert you of any blockages or potential reduction in airflow pressure

Lightweight and compact design for ease of transport and use

Automatic filter shaker and washable filters

Saves required clean up time at the end of a project
Specification:
Cable Length: 5 metres

Motor Power: 800W

Suction Lift Power: 2400mm / 18KPA (180MBAR)

Air Flow: 205 M3/H

Tank Size: 15 litres

Filtration: M CLASS

Noise (dB9A)): 76
Supplied with:
Handle

Hose

Bag (x5)

Filter

3 Metre Hose

Crevice tool and brush

Power tool adaptor

Floor sweep head

Carpet head

Complete handle (2 x straight extensions + 1 x Elbow)
Key Features:
Power take-off port: plug you corded tool in and the extractor will start working when the tool is in use

Constant suction power even with the finest concrete and wood dust

M Classified to meet EU legislation

The filter is automatically cleaned every 15 seconds reducing filter clogging and delivering constant air flow

Wet and dry pick up with variable suction control allows for the reduction of suction power if required
Specification:
Power Input: 1400 Watts

Max. Airflow: 4080 l/min

Capacity: 38 ltr

Wet/Dry Capacity: 18.4 ltr
Key Benefits:
Large rear wheels

Front handle/bumper

Protect hose connection

Rugged telescopic handle

Increased durability and portability
Supplied With:
4m x 32mm extraction hose

35mm AirLock adaptor

Stepped Rubber AirLock adaptor

Dust bag
Key Features:
The H13 HEPA filter is M-Class rated and provides up to 99.9% filtration efficiency

Reduces the presence of harmful dust and particulates in your working environment

Large 30 litre tank for longer, more efficient working

Synchronised power tool take off means the vacuum will automatically start up when your power tool is connected and in use

Suitable for both wet and dry applications
Specification:
Suction Lift Power: 2800mm / 25kpa (250mbar)

Weight: Nett: 7.5kg (Gross: 12kg Package Weight)

Rating: M-Class H13 HEPA Filtration

Motor Power: 1400w

Cable Length: 5m
Supplied With:
2 x 36mm Steel Tubes

5m Anti Static Hose

Wall Drill Extractor Attachment

Floor Tool

Round Brush

Crevice Tool

Power Tool Extraction Port Connector
---
Conclusion - The Reality of Class M Dust Extractors

Across the EU, guidelines, rules and regulations are in place to help reduce the number of yearly fatalities due to the inhalation of harmful dust particles. Because your health matters more than speed or convenience and as a result, owning and using an M Class filter is imperative. It's the law if you work on site, and it's just good common sense for everyone else, particularly when working on brick or concrete. Take a look below at some of our must have dust extractors and vacuum cleaners at Toolstop. From domestic household use to industrial vacuum cleaning, we have the solution for you!
---
Shop Dust Extractors and Vacuums at Toolstop:

Explore the Toolstop Blog...