Posted by Katy | Toolstop on 4th Nov 2021
SHOCKWAVE is Milwaukee's power tool accessory range designed exclusively for use with impact drivers. Find out everything you need to know in this Toolstop blog.

SHOCKWAVE - Specifically Designed for use with Impact Drivers

SHOCKWAVE is Milwaukee's line of power tool accessories specifically designed for use with impact drivers. SHOCKWAVE focuses on driving performance forward. As tool usage and technological advancements within impact drivers increased, Milwaukee stepped up to the plate with this innovative creation.
---
What Makes SHOCKWAVE Special?

The SHOCKWAVE range is made up of the most popularly used power tool accessories such as screwdriver bits, step drill bits, hole saws, sockets and more. These high quality products are built for the professional user, designed for use in demanding and consistent applications.
Since launching back in 2009, SHOCKWAVE has continued to innovate and provide tradesmen with some of the best performing impact accessories on the market. SHOCKWAVE will continue to be at the forefront of impact accessory technology for years to come.
For screwdriving, drilling, holemaking and more, SHOCKWAVE is the number 1 choice!
---
There is a huge selection of accessories available in the SHOCKWAVE range; Sockets that provide extreme impact durability in high torque applications, drill bits that are engineered for extreme durability and long life, and much more. This range truly is second to none. We have chosen our top 3 picks from the SHOCKWAVE range and highlighted them below with their main features and benefits.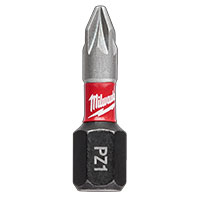 Shockwave Impact Duty Driver Bits
Milwaukee's SHOCKWAVE Impact Driver Bits are the most durable bits on the market, providing extreme durability for the most demanding job site applications. Their Wear Guard Tip increases wear resistance and Shockzone is optimized for each tip type and length of driver bit, absorbing peak torque and preventing breaking. CUSTOM ALLOY76 steel and heat treatment provides up to 50x longer bit life compared to other brands.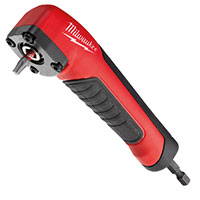 Shockwave Right Angle Attachment
This Milwaukee SHOCKWAVE right angle attachment is a useful device for screwdriving or drilling applications in restricted, difficult to reach areas. Compatible with all 1/4" Hex driving and drilling accessories with a true 90° angle to allow access into confined spaces. Pack contains 1 x right angle attachment and 10 x 25mm screwdriving bits.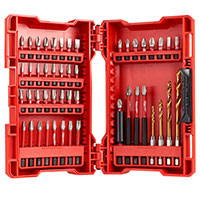 Shockwave Impact Duty Screwdriver & Drill Bit Set
This Milwaukee SHOCKWAVE drill and screwdriver bit set is designed for use with Impact Drivers, with laser hardened WEAR GUARD TIPS for improved wear resistance. Consists of a selection of Pozi Bits, Phillips Bits, Hex Drill Bits and more. The SHOCK ZONE reduces stress at the tip resulting in less tip breakages.
---
Shop Milwaukee Shockwave at Toolstop:
Explore the Toolstop Blog...