Posted by Katy | Toolstop on 22nd Jul 2021
In this Toolstop guide, we explain what different grits of sandpaper are available, what they mean and when you should use them.

What Grit Sandpaper to Use

Sanding is one of the most important steps in woodworking applications. There are many scenarios in which it can be beneficial, such as to smooth the surface of your workpiece so it's free from splinters and to remove scratches, to prepare the surface for painting/staining or to round off edges.
In this Toolstop guide, we explain what different grits of sandpaper are available, what they mean and when you should use them.
What is the Finest Sandpaper?

There are 6 main sandpaper grits, categorised by coarse, medium, fine and extra fine. The grit is a rating of the size of the abrasive particles embedded in the sandpaper. The higher the grit number, the finer the abrasive particles and the smoother the finish that can be achieved. The lower the grit number, the coarser the finish but quicker the material removal rate.
40 grit: Coarse

80 grit: Medium

100 grit: Medium

120 grit: Fine

220 grit: Fine

440 grit: Extra Fine
The grit you opt for completely depends on your application.
Below we have explained what each grit means and the common applications they are used for:
Coarse sandpaper is typically designed for the rough shaping of wood, or to remove previous finishes such as paint or varnish. Coarse grit sandpaper can also be used to create a textured surface.
Medium sandpaper is used for the final shaping work, to remove marks left over from planing or for smoothing a surface after coarse grit sandpaper has been used. It is also a good choice for sanding between coats of paint or stain. Medium grit sandpaper can create a smooth finish without leaving any scratches.
Fine sandpaper is used for creating a smooth, polished finish. It is often used to sand wood before applying a finish, or to polish metal. Fine grit sandpaper can also be used to remove minor scratches from a surface.
Extra fine sandpaper is used between coats of paint or varnish to achieve the smoothest finish.
Also available is extra coarse sandpaper (24-36 grit) which is designed for floor sanding. It has a rapid material removal rate. It's worth noting that on most projects, you will start off with a coarse sandpaper then work your way up to a fine one.
What Grit Sandpaper for Wood?

The best way to choose the right grit sandpaper for your project is to consider the following factors:
The type of surface you are sanding

The amount of material you need to remove

The finish you want to achieve
Sanding can be carried out either by hand or with an electric sander, though using a power tool will get the job done much quicker. Sandpaper for power tools comes in disc, belt or sheet form. No matter the sander you own, the sandpaper grit will do the same on each.
Here are some things to consider when choosing a sandpaper grit:
Fine sandpaper cannot remove paint or varnish

Medium sandpaper will leave a coarse surface texture so will need to be followed up with fine sandpaper afterwards depending on the finish you desire

Coarse sandpaper will remove material rapidly
What's the Difference Between Sandpaper Grit and Sandpaper Grade?

Grit refers to the specific size of the abrasive grain (40, 80, 120 etc.), whereas grade is a broader term that covers a range of grits. For example, medium grade can include grit sizes between 80 and 100.
As well as coming in different grits, sanding discs, sheets and belts are also made from different materials.
Aluminium oxide: A durable synthetic grit. A good choice for sanding all types of hardwood as well as metal
Emery: A natural grain often used to polish metal. Usually too sharp for sanding wood.
Garnet: A natural grain used in woodworking for fine sanding. Slightly softer than emery.
Silicon carbide: Commonly used in wet sanding applications. It is the most durable of all synthetic abrasives and is ideal for sanding a wide range of materials such as plastic, metal, hardwood, and softwood. Available in a huge range of grits.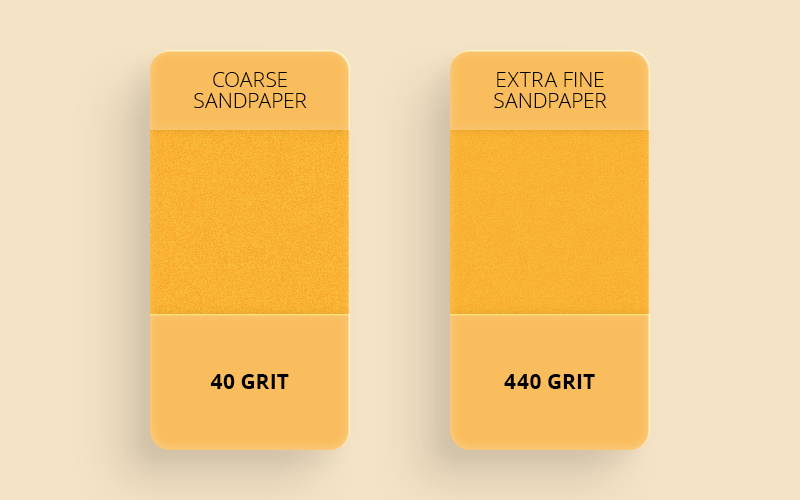 At Toolstop we have sanding discs and sheets to go alongside your sander, as well as regular sandpaper to carry out jobs by hand. Shop all the sandpaper you need and choose the correct grit for your application.
Shop Sanding Discs & Sheets:
Explore the Toolstop Blog...