Posted by Katy | Toolstop on 23rd Sep 2021
Every tradesman knows that when it comes to Milwaukee, the best way to go is FUEL. Find out everything you need to know about the M18 FUEL range in this exclusive guide.

Everything you Need to Know About Milwaukee M18 FUEL
Established in 1924, Milwaukee is one of America's oldest power tool manufacaturers. And every tradesman knows that when it comes to Milwaukee, the best way to go is FUEL. The Milwaukee M18 FUEL range is engineered for the most demanding jobs, designed to outperform any other tool in its class. In this Toolstop guide, we'll tell you everything there is to know, and why you need some M18 FUEL tools in your kit!
---
What Differentiates M18 FUEL Tools From the Standard M18 Range?
Tools in the M18 FUEL Range Feature 3 Milwaukee-Exclusive Innovations; The POWERSTATE Brushless Motor, REDLITHIUM Battery Pack and REDLINK PLUS Intelligence Hardware and Software.
But what does this mean?
More Power, Runtime and Efficiency with the Milwaukee POWERSTATE Brushless Motor
We all know that brushless motors on power tools perform better than brushed. And if you didn't, its worth checking out our blog post dedicated to this topic.
But what is so special about the Milwaukee POWERSTATE Brushless Motor?
The difference between Milwaukee's FUEL range and their standard brushless M18 tools is that FUEL has a much more powerful POWERSTATE brushless motor. According to Milwaukee, it is 4 times more powerful!
The POWERSTATE Brushless Motor delivers more application speed, torque and durability in a more compact form. It also produces less noise and cools down quicker to deliver years of maintenance free performance. These motors are uniquely designed for each power tool to deliver optimal performance in all applications.
Combine this with the two other features explained below, and you are looking at levels of power and performance never before seen on an 18V platform.
---
Power Meets Control with REDLINK Plus
By combining advanced hardware and software, REDLINK Intelligence enables advanced communication between your batteries and tools to allow for unmatched levels of performance, protection, and productivity. It is the most advanced system of cordless power tool electronics.
Overload Protection prevents damage to the tool and battery caused by overloading or overheating, enabling full-circle communication between the tool, battery, and charger.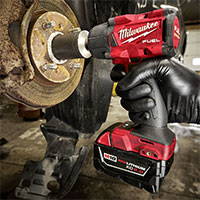 ---
Work Faster, Not Harder with REDLITHIUM Batteries
You can expect up to 40% more run-time, 20% more power and 50% more recharges with the Milwaukee REDLITHIUM batteries (compared to conventional lithium-Ion batteries).
Milwaukees REDLITHIUM Batteries are built to withstand the harshest environments. They last longer and work harder than all other professional li-ion batteries on the market. They can operate in temperatures as low as -20°C, offering fade free power with no memory effect.
The M18 REDLITHIUM batteries are compatible with all Milwaukee M18 tools. Find out more about them in our dedicated guide.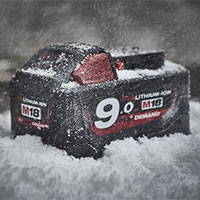 ---
See some of the M18 FUEL tools in action over on our YouTube channel:
The Milwaukee M18 FUEL range is constantly expanding. At present, there are over 150 tools in the range, consisting of a selection of impact wrenches, combi drills, angle grinders and more.
The most powerful 18V cordless tools in their class, Milwaukee M18 FUEL will produce unrivalled power output, run-time and durability on the job site. If your applications require unmatched power, day in, day out, the M18 FUEL range is for you!
---
Shop Milwaukee at Toolstop
Explore the Toolstop Blog...