Posted by Katy | Toolstop on 28th Apr 2021
This Toolstop Blog with included video demo explains everything you need to know about Dowel Joints - how to make them, why to use them and more.

---
In this Toolstop blog, we explain everything you need to know about dowel joints. What is a dowel joint? Why you should use dowel joints for joining wood and how to do so. For the purpose of this guide, we are using the Triton TDJ600 Duo Dowel Jointer.
---
When you want to make strong, accurate joints in wood, sometimes there's no other option than to use a dowel joint.
A dowel is a "cylindrical rod, usually made from wood, plastic, or metal" that is used for holding together components of a structure. Dowels are much thicker and sturdier than screws or nails, which as a result makes them perfect for furniture or cabinet making.
In order to join two or more pieces of wood together, dowels are inserted into both pieces of wood being joined which provides an overall stronger joint than glueing alone would. The dowels are usually dipped into glue before being inserted into the wood as this creates a tighter wood-to-wood contact.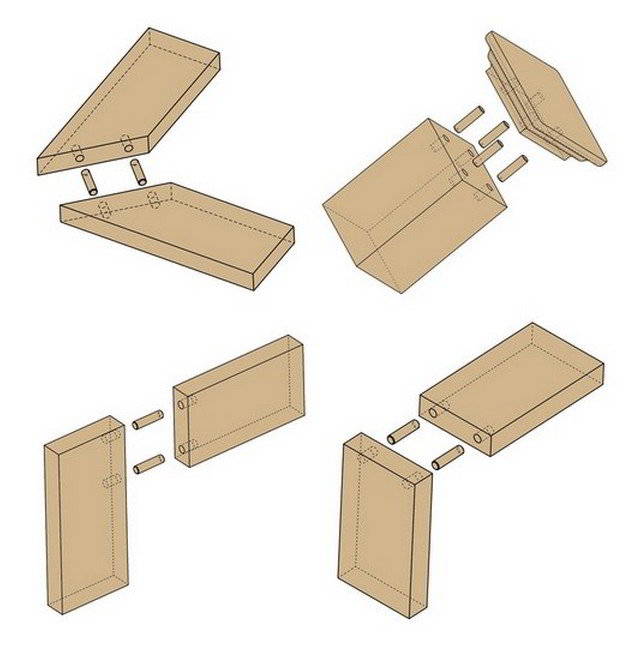 ---
Dowel jointing is a fast process (once you get the hang of it)

They provide you with a much neater, flusher finish than nails or screws would

There's no need for screws or nails

When it comes to woodworking, dowel joints are the strongest type of joint
Dowel Joint Disadvantages:

The process of creating dowel joints can be tricky for a beginner

Getting the alignment right can be difficult

Some say that mortise and tenon joints are stronger
---
Dowel joints are most commonly used in carpentry and woodworking applications to join two or more pieces of wood. Typical applications where dowel joints are used include (but are not limited to) furniture making, constructing shelves, to reinforce butt joints and toy making. Realistically, any job where you need to join two pieces of wood can merit a dowel joint.
---
How to Make a Dowel Joint

We are now going to demonstrate how to make a dowel joint using the Triton TDJ600. Check out our step by step video guide on this model which explains everything you need to know about dowel joints.
There are loads of dowel jointers on the market to choose from. You can shop a range of wooden dowels at Toolstop.
---
How to Make Dowel Joints with the Triton TDJ600

Triton TDJ600 – What Features Does it Offer?
A key feature of the TDJ600 is the precision with which you can adjust the height and depth when drilling into the material. That's due, in part, to the rack and pinion system built into the tool, and the clear, calibrated view of the cut you have when using the tool.
The holes are 32mm apart, the industry standard, and the construction of the TDJ600 is such that they'll be exactly square. 8mm dowel cutters are supplied with the machine, with the ability to swap these out for 10mm or 12mm cutters, should they be needed.
Fine tuning of the cut is another key feature of the TDJ600, whether it's the angle (adjustable via the front plate), the height (via the rack and pinion system), and the depth of the cut (via a stopper fitted to the side of the machine).
Each adjustment is clearly marked via embossed guides, all of which combines to make the TDJ600 very quick to set up, and completely intuitive along the way.
Cutting for a dowel joint should be easy, and once the TDJ600 is set up for the cut, it's just a case of placing the front plate against the material and pushing.
Obviously, you want to be fully in control, and the tool offers great balance and ergonomics to provide that control. The front bale handle is big and grippy, and the body is compact enough to wrap your hand around. The anti-slip pins (or jig teeth) on the front plate can be adjusted to that you're guaranteed that the tool won't slip or move while you make the cuts.
This makes working along long pieces of material a breeze as you have the control in place, and the cut will be perfectly set up, meaning you can move quickly and accurately along the workpiece.
Triton TDJ600 – What's the Spec?
All of the cutting capacity comes from the 600W motor, with replaceable brushes. The drill bit spin at 16,500rpm giving you the grunt required for even the toughest material.
In terms of the cut, here's the spec:
Drilling Height 9-43mm 23⁄64 – 1 11⁄16″

Drilling Depth 0-38mm 0 – 1⁄2″

Drill Bit Spacing 32mm 1 1⁄5″
---
By following these quick and easy steps, you will be dowel jointing with ease in no time. Is dowel jointing a common occurence in your day to day work? Being one of the strongest types of joints, we highly rate them!
---
Explore the Toolstop Blog...