Posted by Katy | Toolstop on 1st Jun 2022
The LX22 is one of Imex's most popular laser levels. Find out everything you need to know in our guide.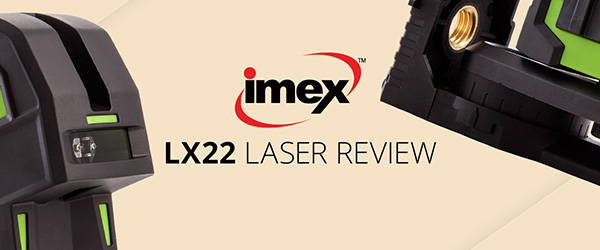 IMEX LX22 - Everything you need to know
The LX22 is one of Imex's most popular laser levels, and is a versatile option for an abundance of levelling tasks. Used and loved by professionals, this cross line laser will provide accurate levelling and alignment in most environments. This Toolstop guide tells you everything you need to know about this laser and why you need it in your kit.
---
The Imex LX22 is a red laser, meaning it's better suited to indoor use. It provides complete accuracy (to ±3mm @15m), and although it won't produce quite as great a range as a green laser would, you can still use it in outdoor applications.
Find out more about the difference between red and green lasers in our guide.
This model has been locally calibrated to ensure the highest accuracy. It has 1 horizontal and 1 vertical line and is self-levelling to ensure a level reading regardless of the surrounding land or floor. It also has plumb spots up and down. This is where a small dot is projected onto a surface. These dots are then used for transferring points from wall to wall or ceiling to floor; extremely handy for making sure a wall is plumb. Work with confidence knowing these lines will always be accurate.
Pulse mode allows this laser to be used in conjunction with a detector. A detector will give you a greater range, in fact up to 50 metres, and will even help aid in outdoor use.
Lock function locks off the self-levelling function so that the lines can be set at any angle. This also helps protect the levelling mechanism whilst in transit.
---
---
"Projects sharp, bright lines across any room with a high level of accuracy".
---
Specification:
Laser: Class 2 635nm Red

Range: Up to 30m light dependant

Range with detector: 55m outdoors

Accuracy: ± 3mm @ 15m

Laser: 1 Vertical / 1 Horizontal / Plumb spot

Power Source: A x AAA

Operating time: 16 hrs

Protection class: IP54

Operating temp: -10°c to +50°c
Other features we love:
Quick release magnetic bracket – no screws to hold laser in place

Optional 5.2Ah lithium battery pack with long run-time

Rugged housing with non-slip rubberised moulding

Perfect for any tradesperson or serious DIY enthusiast

Pulsating mode for outdoor use with an optional detector up to 50m
---
---
Explore the Toolstop Blog...