Posted by Katy | Toolstop on 27th Jul 2022
Makita just announced a brand new 40V XGT cordless router. Here's everything you need to know!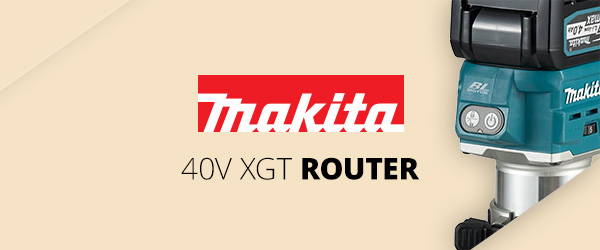 Makita just announced a 40V XGT Router

2020 saw the introduction of Makita's 40V platform, XGT, and since then, the range has been rapidly expanding. XGT outpowers, outsmarts and outlasts the rest, delivering higher-powered solutions for high-demand applications.
The XGT range has been quick to step up to the mark, now containing most tools you could think of and need. But there was one missing; a router.
Lucky for us, Makita just announced one!
---
RT001G - Here's what you need to know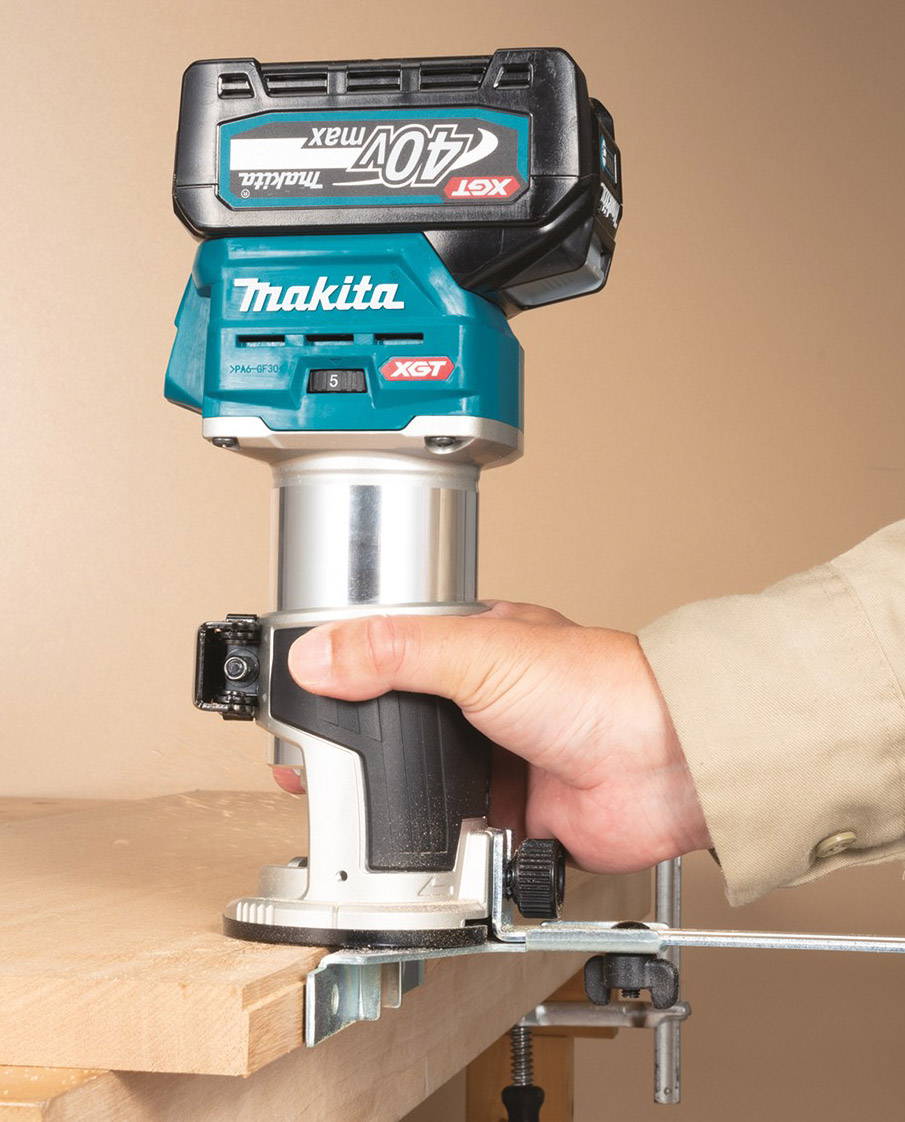 The RT001G is the first cordless router in Makita's XGT range. Like all XGT tools, it features Makita's new and improved brushless motor, now with rare earth magnets engineered within it to maximise power and performance and pure copper wire for increased output.
So far, so good!
This model will deliver the same, if not a higher power output than that of a 1000W corded model, and infact offers up to 60% faster cutting than the 18V LXT equivalent! (more on this later).
It is compatible with the bases used for the DRT50, so if you already own this 18V model and are looking for an upgrade, there's no need to fork out on new accessories! Plus, its quick and easy base removal feature allows for the efficient installation of other bases. We believe this model is sold as standard with a trimmer base.
XPT (Extreme Protection Technology) provides improved dust and water resistance for operation in harsh conditions.
The soft brake prevents damage to the workpiece
This cordless router benefits from Makita's AWS (Auto-start Wireless System) which allows you to connect it via Bluetooth to compatible dust extractors. This helps to keep the workplace clean and tidy and to keep your workpiece free from dust and debris, giving you a clearer view of cut. It's worth noting that you will need a Makita wireless transmitter in order to be able to do so.
As well as its robust motor, the aluminium base provides higher durability and accuracy. It is slim and ergonomically designed with a soft start function for smooth start ups and variable speed control to allow you to select the optimum cutting speed to suit the application. The conveniently located variable speed control dial enables the user to match the speed to the application while holding the body!
The lock-on function reduces fatigue in long continuous operation and battery protection circuit protects against overloading, over-discharging and over-heating.
Above all else, this model offers the freedom of cordless. Use it any time, anywhere without worrying about trailing cables or cable restrictions.
---
Top features:
6.8mm chuck (1/4" collet size)

Brushless motor

10,000 to 31,000 RPM

Weighs 2.5kg with a 4.0Ah battery

35% faster working speed than the 18V LXT version

Dual LED worklight

Motor shaft lock for bit changes

Variable speed dial

AWS Makita wireless vacuum activation
Specification:
Collet Capacity: 1/4"
No Load Speed: 10,000 – 31,000 rpm
Plunge Capacity with Trimmer Base: 0 – 40mm
Plunge Capacity with Plunge Base: 0 – 35 mm
Max Output : 1,160W
Vibration Level: 2.5 m/s² or less
Sound Pressure Level: 81 dB(A)
Sound Power Level: 92 dB(A)
Noise K Factor: 3 dB(A)
---
Makita 40V router in action:

---
18V LXT Vs 40V XGT - Which Makita router is best?

Lets compare Makita's 18V LXT router (DRT50) to the new 40V XGT model (RT001G).
| | | |
| --- | --- | --- |
| Comparison | DRT50 18V Router | RT001G 40V Router |
| | | |
| | | |
| | | |
| | | |
| | | |
| Plunge capacity (trimmer) | | |
| | | |
| | | |
| | | |
| --- | --- | --- |
| Comparison | DRT50 18V Router | RT001G 40V Router |
| | | |
| | | |
| | | |
| | | |
| | | |
| Plunge capacity (trimmer) | | |
| | | |
Both models feature a fully brushless motor, soft start, variable speed control and are connectable to dust extractors.
Both models also benefit from an aluminium base, LED job light and shaft lock. So what's the difference?
The 40V model features AWS, so as much as the 18V model can be hooked up to dust extractors, it does not start and stop wirelessly, in conjunction with the tool. The 18V version does not benefit from XPT, nor does it have a battery protection circuit.
No-load speed is extremely similar on the two models, 10,000 - 30,000 rpm for 18V and 10,000 - 31,000 rpm for 40V. Both models have exactly the same plunge depth capacity
So as we can see, both models contain most of the same features, and with the 40V only containing a few extras, the main difference is in the power output, which is huge!
The 40V offers a massive 1060W power output, which is equivalent to that of 1000W AC model, and hence why it produces up to 60% faster cutting than the 18V LXT model. If you need all the power for demanding applications, the XGT model is your guy!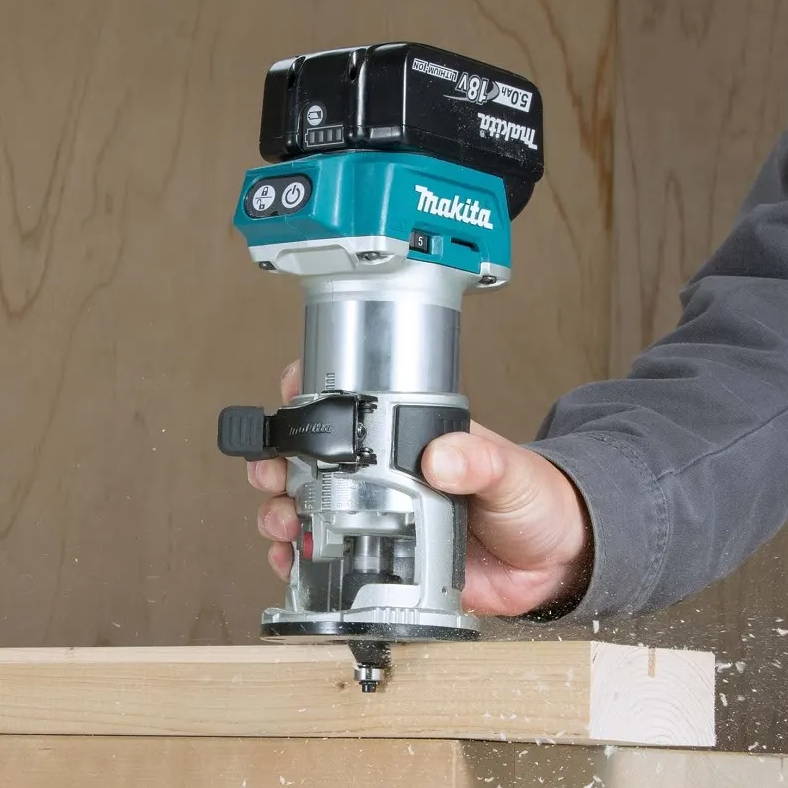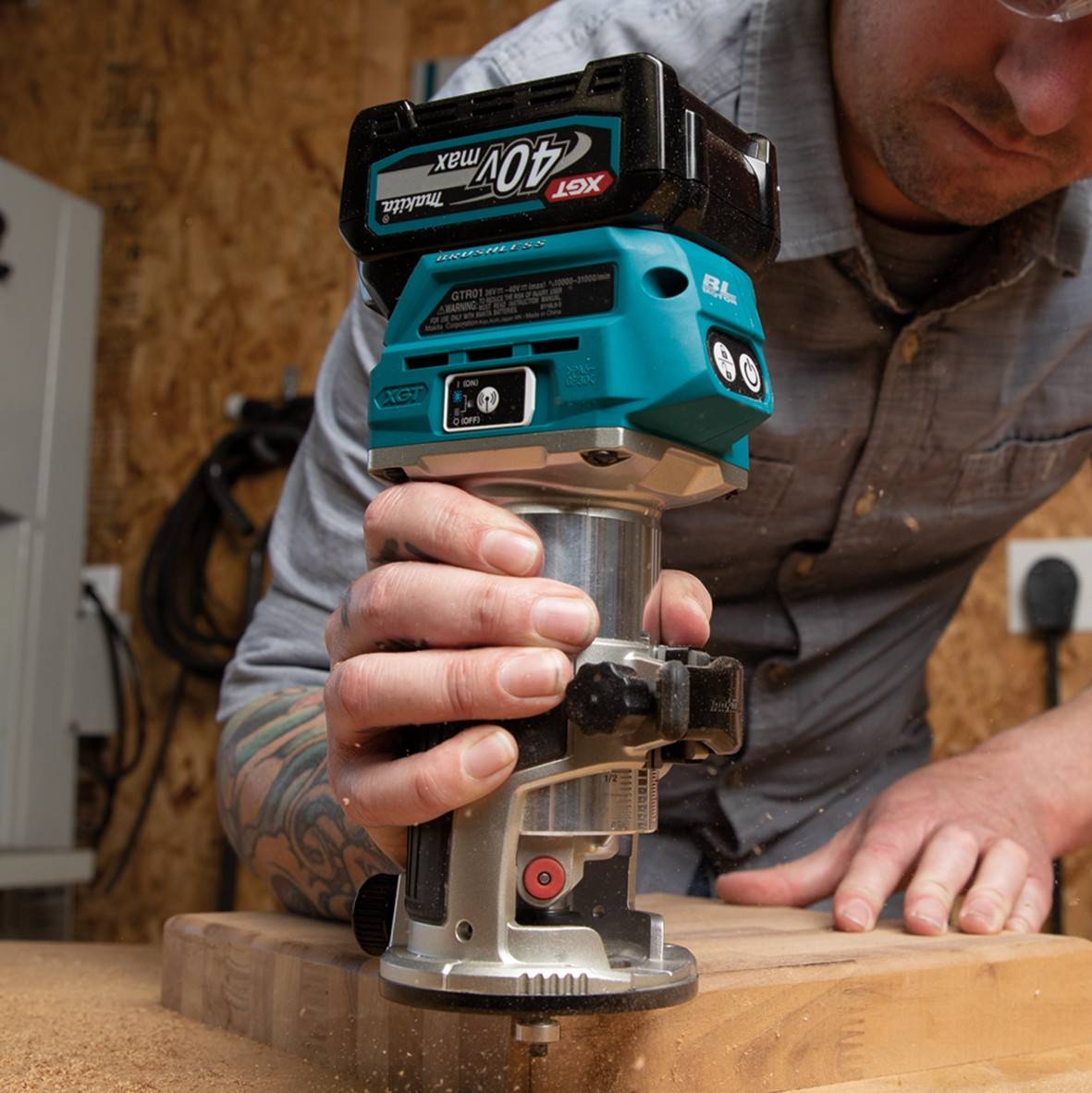 ---
Standard accessories (though yet to be confirmed) include:
Collet Cone

Trimmer Base Assembly

Straight Guide

Templet Guide

Wrench

Trimmer Guide

Dust nozzle

Tilt Base Assembly

Offset Base Assembly

Plunge Base Assembly

Battery

Charger
---
Makita are really pushing the boat out with their new 40V XGT range. Have you upgraded to this platform yet?
We will hopefully see the launch of this 40V router soon. Keep an eye out on our socials and sign up for our newsletter to be the first to be notified when it's available!
---
Explore the Toolstop Blog...

---