Posted by Katy | Toolstop on 1st Jan 2021
No matter the trade, it is important that you have all the correct tools to carry out the job. We have created this guide to plumbing tools to show you exactly what power tools a plumber needs and why.
No matter the trade, it is important that you have all the correct tools to carry out the job. We have created this guide to plumbing tools to show you exactly what power tools a plumber needs and why.

What Tools Does a Plumber Need?

Whether you're a budding apprentice plumber or a gnarly, wisened veteran plumber, having the right power tools in your van will ensure your day goes smoothly; unpack them, use them, get the job done with them.
On top of that, everyone knows that plumbers like to push their power tools hard, so it's also important that you have tools that'll take the abuse!
What are the Best Power Tools for a Plumber??
Let's be honest, it can be easy when we're feeling flush to load up our shopping basket with loads of new tools, some of which we might hardly ever used. However, this guide is deliberately limited to the absolute "must have" power tools for plumbers, which we feel are:
Cordless twin pack: combi drill & impact driver

SDS+ hammer

Oscillating multi-tool

Circular saw

Dust control system
---
18V CORDLESS COMBI DRILL & IMPACT DRIVER TWIN PACK
Why go for a twin pack of cordless tools? The main reason is they're typically a bit cheaper than buying each tool separately. Equally, the temptation can be to opt for two tools on different battery platforms. But we're being pragmatic here. Buying a twin pack ensures that both will share the same battery, and going forward this means you can add to your kit by buying body-only versions, which won't come with a battery but are a fair bit cheaper. Read our guide to body-only tools here.
Our Pick: Makita DLX2145TJ 18V LXT Twin Pack - DHP458 Combi Drill + DTD152 Impact Driver
For this guide, we've chosen Makitas DLX214TJ twin Pack containing the DHP458 Combi Drill + DTD152 Impact Driver. Both of these tools are compact and lightweight, yet remain powerful to complete demanding tasks. The impact driver puts 165Nm of torque in your hand, while the combi drill offers you up to 6000 blows per minute.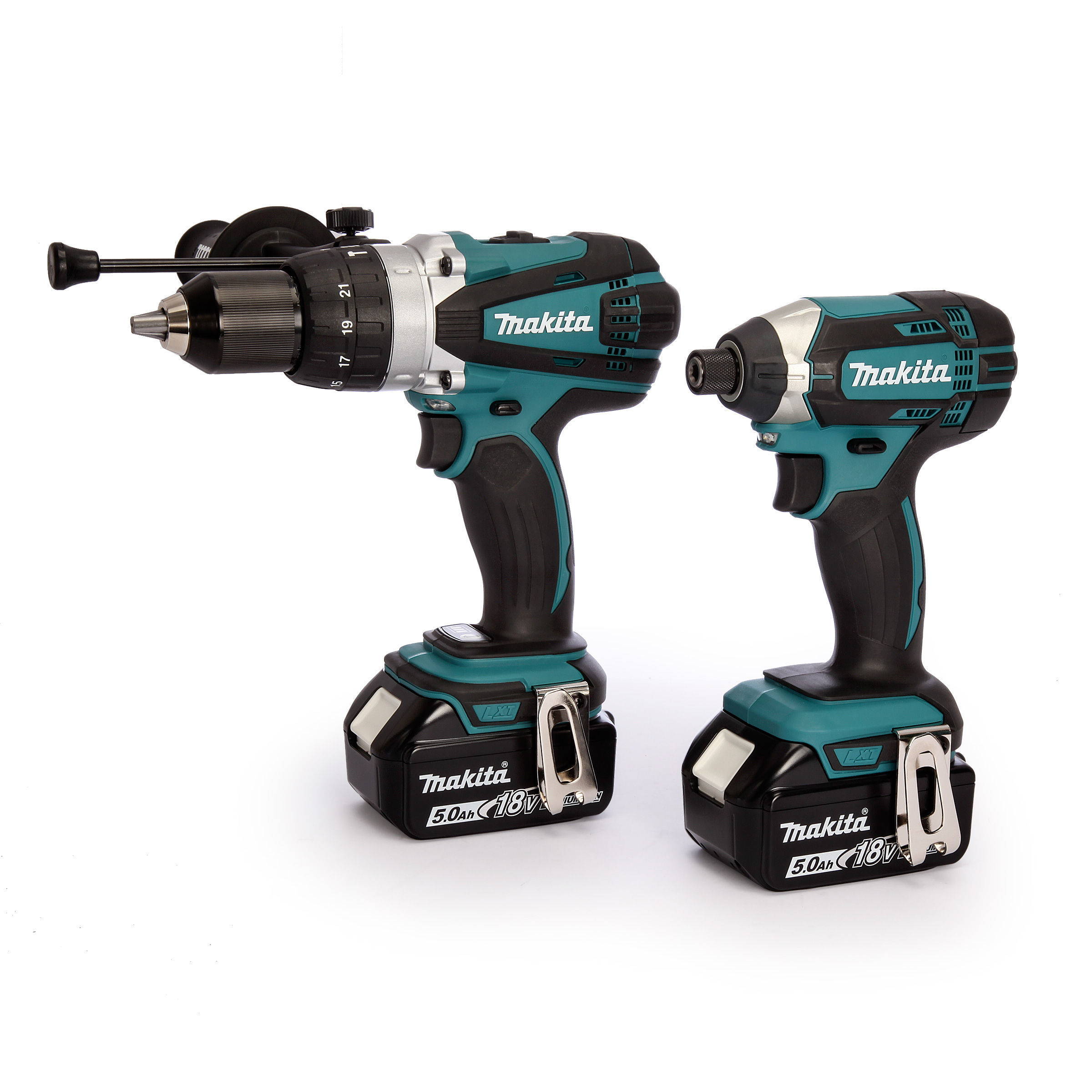 ---
BEST SDS+ HAMMER DRILL FOR PLUMBERS
The right tools for the right job; hence the need for a good quality SDS+ hammer drill. It'll be ideal for the times you need to punch big holes in masonry, or even chip or chisel concrete. Choosing an SDS+ hammer that will perform as you want it, when you want it is also key. So for that reason ,we've gone for the DH24PX from HiKOKI.
Our Pick: Dewalt DCH283N 18V XR Brushless 3-Mode SDS Plus Hammer Drill
With its 3 modes (hammer, rotary hammer, drilling) it punches into masonry with 2.8 Joules of impact energy, boasting more than 74 holes (10mm Ø x 80mm) per charge. Again, this model is compact and lightweight, perfect for the plumbing trade.
BEST OSCILLATING MULTI-TOOL FOR PLUMBERS
These tools are virtually a pre-requisite these days thanks to their flexibility. There isn't much you can't do with them, and they're ideal for little jobs that other tools are either too costly or too big for. Obviously it comes down to whether you need cordless or not, and of course the accessories you have with you. Click here to see all the cordless oscillating multi-tools in stock, and click here to see the corded versions.
Our Pick: Makita TM30DZ Multi-Tool
This is one of the aforementioned body-only tools. You'll save cash, and all you need to do is use one of the 18V LXT batteries already in your kit, such as those supplied with the Makita twin pack above. It has a big oscillation angle of 3.2º which allows for fast cutting applications, and the accessories will oscillate in the OIS shoe at up to 20,000 OPM.
---
More Plumbers Power Tools:
---
BEST CIRCULAR SAW FOR PLUMBERS
Plumbers typically need a circular saw with a blade of around 165mm in diameter in order to quickly cut through floorboards, for example. However, the issue of nails in the wood often comes up! So, what about a circular saw that takes blades of 185mm and will cut through nails as if they weren't there?
Our Pick: Evolution EVOSAW230 TCT Industrial Circular Saw
The Evolution EVOSAW230 comes with a 230mm TCT steel blade, and it's a monster. For us, this is the perfect circular saw for plumbers as it'll handle virtually any cutting job you throw at it! It cuts steel, aluminium, plastic and wood with nails in all with the one blade. It's a pure no-nonsense tool that you'll have in your kit for quick cutting jobs, no messing around
---
BEST DUST CONTROL FOR PLUMBERS
Are plumbers the messiest tradespeople on site? We'll let you guys argue that out, but the reality is, we all create dust and debris when we're working. And with more and more jobsites making the possession of a dust extractor a requirement, it makes sense that we look for the best one on the market.
Our Pick: V-TUF VTM1240 M Class Dust Vacuum Cleaner
For starters, this is M-Class, meaning it fits the minimum dust extraction requirements from the EU and HSE. It's automatic filter shaker and washable filters work together to save you both time and cost in the maintenance and upkeep of your equipment. Along with being super-portable, it benefits from a 15 litre dust capacity.
---
So that's our suggestions for the best power tool kit for plumbers. What would you add to the mix?
---
Did you know we also stock Plumbers Hand Tools at Toolstop?
Explore the Toolstop Blog...