Posted by Katy | Toolstop on 9th Apr 2021
SDS Drills can drill much faster and for longer in tougher materials than standard drills. But, which is the best cordless sds drill? This Toolstop Guide explains what is an sds drill & what is the best sds hammer drill for you
SDS Drills are a great addition to any professional tool kit. They can drill much faster and for longer in tougher materials than standard drills. But, which is the best cordless sds drill? This Toolstop Guide has been created to show you exactly what is an sds drill as well as what is the best sds hammer drill to help make your mind up before purchase.

Which is the Best Cordless SDS Drill?

Hitting hard and drilling big are important features of any SDS drill. Many of us are tethered to a power cord when we use our SDS hammer of choice, but in this Toolstop guide, we'll show you why you should buy a cordless SDS+ hammer drill.
In this buying guide, we'll cover:
We've got a fantastic range of cordless SDS+ hammers in stock for next day delivery, click here to see what's on offer.
---
What is an SDS Drill?
First off, we need to understand what SDS+ means. There are a few definitions of the term, the most common of which is "Slotted Drive System". Some argue that it comes from the German phrase 'steck, dreh, sitzt' that translates as 'insert, twist, fits'.
Either way, SDS+ refers to how the chuck interacts with the bit. SDS bits have a slotted shank. This design allows them to be inserted into the chuck with a twist and locked into place via the chuck's sprung ball bearings. This pays dividends when the drill is used in hammer mode as the slots in the bit allow for the back-and-forth action required while reducing friction within the drill.
An SDS drill combines the hammer action of a hammer drill with the rotary motion of a regular drill. This makes them highly effective at drilling in the toughest materials like concrete and masonry that standard drills simply could not handle. There are 3 types of SDS drill: Regular SDS drills, SDS Plus drills and SDS Max drills.
Benefits of SDS drill bits
Energy is delivered to the bit in a much more efficient way, reducing the amount of pressure the operator needs to put into the application. Hammer action, coupled with the SDS+ bit, means you get the job done with little effort needed.
The SDS drill combines hammer action from hammer drills with the rotary motion of a regular drill to give them the power and functionality needed to complete heavy-duty tasks. An SDS hammer drill will allow you to drill into wood, metal and masonry with ease.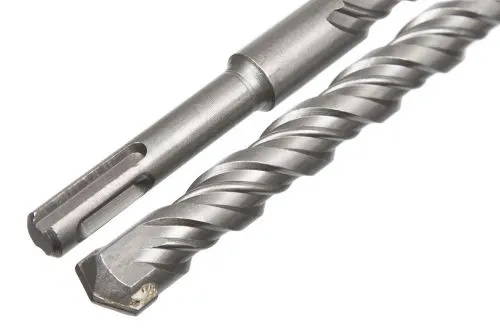 ---
What features should an SDS Hammer have?
Think Modes, BPM, Joules and RPM! SDS+ hammer drills are available in a few different varieties, determined by the modes. SDS drills typically come with either 2 or 3 modes, as explained below.
A 2-mode SDS+ hammer drill will have rotary hammer and rotary only modes. You'll be able to drill into wood or metal (using rotary only) and by selecting the rotary hammer mode you'll also be able to drill into masonry thanks to the hammer-action.
A 3-mode SDS+ hammer drill gives you the same functions as a 2-mode SDS Drill, but with the added addition of chiselling function. This is the ideal drill for some light chiselling or chipping into concrete or masonry.
Often a 3-mode SDS+ hammer drill will include a neutral position on the mode selector which gives you the opportunity to position your chiselling bit at the desired angle, before moving the selector ring to chisel mode.
For the most demanding tasks, you would typically opt for a 3 mode SDS drill.
What features should you look for in a cordless SDS plus hammer drill? LOOK FOR 3 MODES!
The final type of SDS+ hammer drill available, determined by the modes offered, is the 3-mode with changeable chuck.
This type of SDS hammer gives you the benefits of a 3-mode but also allows you to swap out the SDS+ chuck for a regular chuck. Now you'll be able to use all of your standard drill bits.
Make sure to be on the lookout for the blows per minute (bpm) and revolutions per minutes (rpm). In each case the higher the number will typically be better in terms of how hard the drill will chisel or drill into masonry and the size of holes you'll be able to drill.
And very importantly, look out for the Joules, or energy, behind each BPM. The higher the number the stronger the impact. Obviously, a smaller machine will give you all the benefits of a lightweight drill such as superior ergonomics and a less-fatiguing experience, but it may lack the energy to punch as hard as one of its larger relatives.
Bearing all of this in mind; do you need portability or do you need heavy hitting?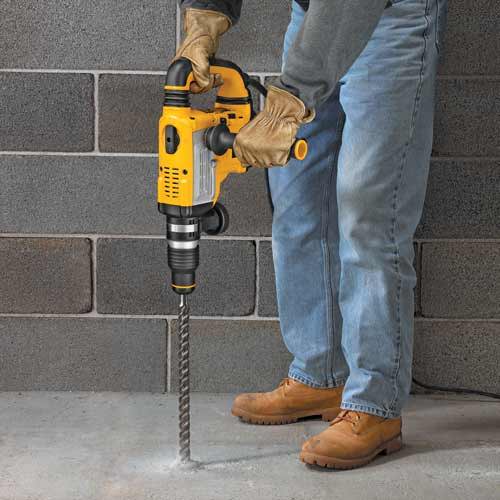 ---
Features to look out for - Portability or big hitting power?
The harder the drill works, the more charge the motor will need to pull from the battery. So if tougher applications are your norm, you're going to be in the market for a tool that comes supplied with higher capacity batteries, such as 4.0Ah or higher.
In summary then, determine the type of applications you'll perform most with your cordless SDS+ hammer drill, then make a buying decision based on the number of modes you'll require.
Think Size and Weight - Just because an SDS+ hammer drill has been designed for pushing larger bits into harder materials doesn't mean that the drill itself needs to be large and weighty.
The advent of brushless motors has seen more smaller sized SDS+ hammer drills appear on the market which give the grunt you'll need. Therefore, even though the addition of a battery adds a little weight to these drills, going for a brushless model will claim some of that weight gain back in your favour, meaning you can use the drill for longer periods without arm or hand fatigue.
Our guide will cite the weight of the drills with the battery attached. Keep reading to find out our top recommendations for best SDS hammer drill.
Think Safety!
Clearly, the type of applications you'll be performing with your cordless SDS+ hammer drill will take a toll on the tool and you. So, keep your eye out for the safety features installed on the drill.
Some manufacturers engineer safety checks into the motor and battery of their tools. These are great ways to make sure you're not overloading the drill and putting yourself, those around you, and the tool itself at risk. Therefore, check the spec of your new cordless SDS+ hammer drill for any safety features like an electric brake built-in.
Should You Buy a Body-Only Cordless SDS+ Hammer Drill?
Sometimes it's possible to buy a cordless power tool like an SDS+ hammer without batteries. This is called "naked" or "body only" (click for our guide to this type of tool). If you're already carrying around spare batteries that are compatible with the SDS+ hammer drill from your manufacturer of choice, it might save you cash opting for the naked version.
Alternatively, look out for the SDS+ hammers that are supplied with higher capacity batteries. Higher capacity means longer runtimes, it's that simple. And if your cordless SDS+ hammer is sold with more than one battery, that could be a huge advantage to you also.
---
What is the best cordless SDS Drill?
Below we have put together a list of our top 3 picks for best cordless sds hammer drill. Whether it's for professional trade use or tougher DIY jobs, if you're looking for an SDS hammer on a budget or one that will last you years to come, we have a hammer drill for all!
Best SDS Drill for Professionals - Dewalt DCH253 18V XR SDS+ Rotary Hammer Drill
Key Features:
Voltage: 18V

Power Output: 400 Watts

No Load Speed: 0-1200 rpm

Impact energy (EPTA 05/2009): 2.1 J

Blows per Minute: 0-4500 bpm
Key Benefits:
Ideal for drilling anchors and fixing holes into concrete, brick and

masonry from 4mm to 24mm

As powerful as the corded equivalent

Best in class vibration, 6.9m/s reduces vibration upon use

Bright LED light for increased visability
Watch our demo video on this model:
---
Best SDS Drill on a budget - Makita DHR171Z 18V LXT Brushless SDS Plus Rotary Hammer 17mm
Coming in at under £100, our top pick for best SDS plus drill on a budget has to be the Makita DHR171. It can drill up to 17mm in concrete and features a fully brushless motor for the highest power output.
Key Features:
Voltage: 18V

Impact Energy: 1.2 J

Impacts per Minute: 0 - 4,800 ipm

No Load Speed: 0 - 680 rpm

Vibration: Hammer Drilling: 9.0 m/sec_

Capacity in Concrete: 17mm
Key Benefits:
Fully brushless motor delivers 1.2 Joules of impact energy for faster drilling

Compact and Ergonomic design at only 273mm overall length

Vibration absorbing handle for increased user comfort

2-Mode operation for "Rotation Only" or "Hammering with Rotation" for multiple applications
For a more in depth look at this model, check out our video demo:
---
Best SDS Drill with big hitting power - Bosch GBH 18V-21 18V Brushless SDS Plus Rotary Hammer Drill
The Bosch GBH 18V-21 is a professional 18V SDS Plus Rotary Hammer with fully brushless motor that provides lasting performance with 2.0 J impact energy. It has a good power-to-weight ratio and features 3 drilling modes for tackling a greater range of jobs.
Top Features:
Top performance in the compact class

High drilling rate and 30% higher chiselling performance than other rotary hammers in the entry-level class

Competitive price point

Continuously variable speed control for clean drilling starts
Specification:
Input Wattage: 650 W

Number of functions: 3

Impact rate at rated speed: 0 - 4980 bpm

Rated speed: 0 - 1300 rpm

Impact Energy: 1.7 Joules

Drilling Capacity Wood: 30mm

Drilling Capacity Concrete: 20mm

Drilling Capacity Steel: 13mm

Drilling Capacity Diamond core: 68mm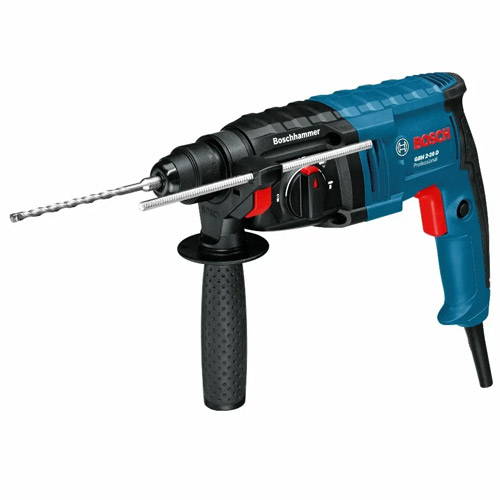 ---
So, what is an sds hammer drill and which is the best cordless sds drill? We hope this Toolstop guide has taught you the main features of an SDS Drill and what exactly they can be used for. Let us know what your favourite SDS+ Hammer Drill is!
---
Check out these great deals on Cordless SDS Plus Drills at Toolstop:
Explore the Toolstop Blog...