Posted by Katy | Toolstop on 24th Mar 2021
Get the right Mitre Saw for your needs by working through the Toolstop Mitre Saw Buying Guide. Then shop the great range of Mitre Saws at Toolstop.

A mitre saw is a type of saw designed to make precision cuts at many different angles. Use it to make accurate crosscuts and miters in a workpiece, such as for angled cuts for moulding, trim work and other general carpentry applications.
Anyone looking to make precise, accurate cuts, over and over, needs to own a mitre saw. However, the challenge – as always – is making sure you're getting the best mitre saw for your cash. Understanding the key features of a mitre saw, plus extra benefits like laser and dust extraction will make sure you'll own the mitre saw that will do the job properly. In this guide to buying mitre saws, we'll explain everything you need to know about:
Double bevel and compound mitre saws

Mitre saw blades

Sliding mitre saws

Other features

Accessories

Dust extraction and why it is important

Leg stands
---
What to Look Out for When Choosing a Mitre Saw

Mitre saws are known for precision and accuracy - two essentials when it comes to cutting through long pieces of wood and other materials (for this guide we will refer to wood). There are many features and styles to become familiar with, let's run through the need-to-knows.
---
What is a Compound Mitre Saw?

A compound mitre saw is a specialist saw that is designed to let you make cuts at angles, bevels and angled bevels. You'll be able to mount it on a bench, table or preferably a leg stand. Then depending on the blade size you'll be able to make cuts in broad, thick pieces of materials. A compound mitre saw will cut non-ferrous metals, plastics and of course wood.
---
What is a Double Bevel Mitre Saw?

Mitre saws will bevel – or swing the blade – to one side only (single bevel) or will bevel both ways (double bevel).
From the diagram shown, we can see a double bevel mitre saw. A single bevel mitre saw will only bevel to one side.
Double bevel miter saws are often the preferred choice for contractors and highly committed hobbyists as they improve workflow and efficiency by allowing you to make precise and uniform cuts on both sides of your workpiece. They also make the job easier and quicker, as you can make faster repetitive cuts even on longer workpieces.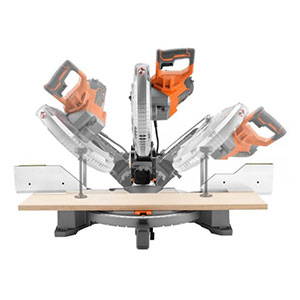 ---
Mitre Saw Blades - Which to Choose

The blade is what determines the depth or height of the cut. Mitre saws normally come with 8, 10 or 12 inch blades. See our range of mitre saw blades here.
There are various types of blades for cutting different styles of material. These include some which are multipurpose for multi-materials. There are blades for wood, aluminium or mild steel. The more teeth in a blade generally means you get a finer cut for finishing.
Normally a new mitre saw will come packaged with a middle of the range blade for wood.
When choosing replacement blades, the packaging will tell you the type of material it is for and the type of cut you can expect. Make sure you choose the right diameter blade for your saw as well as the right bore size (the hole in the middle). If you visit our circular saw blades category, you can easily filter the products so only the ones relevant to you will be shown.
We have a full blog post dedicated to which circular saw blade you should buy. You can find out more on circular saw blades and which one is right for your mitre saw and applications in this dedicated guide.
---
What does the 'Mitre' in 'Mitre Saw' mean?
A mitre saw makes mitres or angled cuts. The saw is normally preset to adjust to various popular angles such as 45º for right angle joints. Some saws will only mitre to one side, most will mitre to the left or the right making it quicker to use.
Sliding Mitre Saws Explained
Cutting on a sliding action allows you to cut pieces of wood with greater widths. As with blade size, check the specs of the saws you're looking at for capacities of cut they make. If you plan to be cutting mainly dado, you won't need to slide too much and the capacity needed will be less. However, if you plan to be cutting fencing posts, you'll need a bigger blade and a bigger width of cut capacity. Therefore a sliding mitre saw is for you.
Bevel/Compound
The saw head will tilt to the side as well as rotate on the saw table. Some saws are single bevel, some are double bevel (as explained above) meaning they will tilt left or right so the wood doesn't need to be turned depending on the angle you will cut. This bevelling action allows complex angled cuts to be performed in tasks like crown moulding or furniture making.
As with a sliding mitre saw, there is more potential for things to go wrong and more chance your saw will lose alignment because of the added feature of bevelling. It is a good idea to choose a respected brand if you are looking to buy a mitre saw with these features.
Other features of Mitre Saws
Mitre saws these days come with a variety of features. Many now come with lights which are handy when working in bad lighting conditions. Some come with built-in laser lines which will show a red line across the wood. This shows where the blade will cut, making it handy for lining up with your pencil line.
Shadow lines work in the same way as lasers but are now becoming the more popular choice as they do not need to be calibrated. Find out everything you need to know about shadow lines on miter saws and their benefits in our dedicated blog.
Most saws will come with adjustable rear fences, extension arms and workpiece clamps. These are great for supporting your wood and keeping your hands free and out of the way of the blade.
Recently, new mitre saws have been seen with a variable speed dial. This helps you set the speed of the motor which best suits the material you will be cutting.
You want to look for one that has some sort of rail function. This allows the blade to be drawn out towards you and then down through the material. The mitre saw will usually have a blade guard for safety. This allows the blade to only become exposed as the blade moves towards the wood. The blade will move in a direction away from the user, channelling the sawdust away from them and the workpiece. Mitre saws come with the switches positioned and controlled in a manner which keeps hands away from the high-speed cutting blade.
Dust extraction and management
When sawing, or using a mitre saw, you'll notice the amount of dust that is created. If you're in a confined area you will almost certainly want to use a dust extractor or vacuum. This attaches to your saw and reduces the sawdust in the atmosphere to ensure a safer and healthier working enviornment. If you haven't already done so, make sure to read our blog post on the importance of dust extraction.
Some saws these days will do a very good job of managing the dust without a dust extractor. But with new laws in force, a dust extractor is usually mandatory on the job site.
---
Our Recommendations for Best Mitre Saw

Like all tools, when it comes to choosing a mitre saw, you need to decide whether to go for corded or cordless. Each has its pros and cons. Find out more about whether you should opt for corded or cordless power tools in our blog.
Chances are, if you are already invested in a particular battery platform, like Makita 18V, you're likely to buy a mitre saw that is compatible with your existing batteries. Below we have recommended 3 of our top selling mitre saws along with their main features, benefits and specification.
The Makita LS0815FLN 216mm Sliding Compound Mitre Saw runs off mains power. It is small and lightweight with an LED job light and a maximum mitre range of 45-60º. Its soft start 1,400W motor provides the power which will run the blade up to 5,000rpm without load.
Top Features:
Ideally suited to first and second fix on-site carpentry operations

Positive stops at 0, 15, 22.5, 31.6 and 45 which make mitre and repeat settings simple and quick

Built in laser guide

High cutting capacity
Specification:
Max mitre range: 50 - 60 º

Bore Diameter: 30 mm

Max bevel range: 48 - -5 º

Noise sound pressure: 87 dB(A)

Noise sound power: 110 dB(A)

Noise K factor: 3 dB(A)

Input Wattage: 1400 w

No Load Speed: 5000 rpm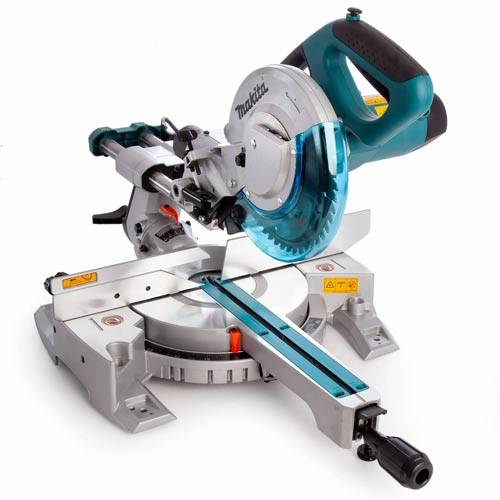 The DCS777T2 is a 216mm Sliding Compound Mitre Saw from the Dewalt 54V XR FlexVolt range. It has a fully brushless motor with the ability to make 140 cuts of a 75 x 50 timber in a single charge. Complete the toughest tasks with ease with this powerful mitre saw.
Top Features:
XPS LED job light for improved cut line visibility

Improved dust extraction efficiency

Integrated positive mitre stops at 15 - 22.5 - 30 - 45 degrees, quick release mitre mechanism up to 50 degrees

Compact internal rail design for huge cutting capacity in a highly transportable format
Specification:
Voltage: 54V

Blade speed: 6300rpm

Blade diameter: 216mm

Bore size: 30mm

Bevel capacity: 48 degrees

Mitre capacity left and right: 50 / 50 degrees

Cutting capacity at 90 deg / 45 deg W x H: 173mm x 62mm

Cutting capacity at 90 deg / 90 deg W x H: 270mm x 62mm

Cutting capacity at 45 deg / 90 deg W x H: 189mm x 62mm

Max. cutting capacity at 45 deg/ 45 deg: 190 x 48mm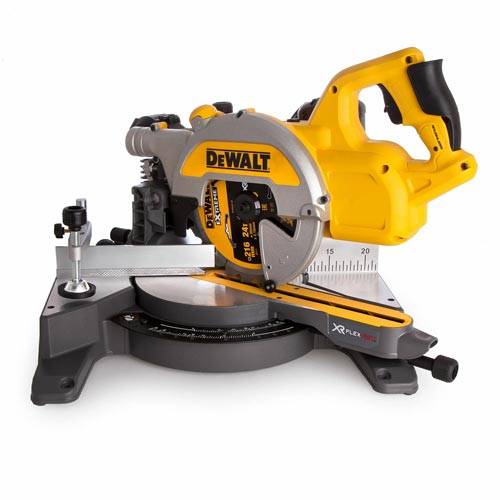 The Metabo KGS216M 216mm Sliding Compound Mitre Saw is one of our bestselling mitre saws of all time. It has a die-cast aluminium work bench and a sliding function for wide cuts. It is compact and lightweight with an LED work light for illumination of the cutting line.
Top Features:
Sliding function for wide work pieces

Single bevel

Effective dust extraction via integrated dust scoop

Fast and precise setting of common angles using stop points

Bright LED work light for illumination of the cutting line

Mains powered, no batteries required
Specification:
Maximum cutting width 90°/45°: 305 mm/205 mm

Maximum cutting depth at 90°/45°: 65 mm/36 mm

Saw blade tilt left/right: 47°/2°

Idle revolution: 5,000 /min

Revolutions at rated load: 3,750 /min
More Mitre Saws at Toolstop:
---
You may want to buy a mitre saw stand if you plan to transport your saw onto a job site. Stands are available in a universal style which is just like a folding table for your saw to sit on. Or they can come in a leg stand style - a foldable style with long extensions and various features such as clamps, roller carriers, supports and adjustable legs, therefore perfect for worksites where many cuts are required.
A legstand makes the world of difference. Any mitre saw hugely benefits from being used on a leg stand. Not only do you get great stability, they also allow you to work at the most comfortable height and are ideal for setting your saw up in one place on-site.
---
That was our guide to everything you need to know about mitre saws. If you have any more questions, feel free to give us a call. We have loads of mitre saws in stock at Toolstop and ready to be dispatched. What are you waiting for?
---
Shop Mitre Saws & Saw Stands at Toolstop:
Explore the Toolstop Blog...