Posted by Katy | Toolstop on 14th Jul 2021
In this new and exclusive Toolstop guide, we'll explain everything you need to know about HiKOKI's new Hi5 5 year warranty scheme and what tools are covered.

Introducing the HiKOKI 5 Year Warranty

HiKOKI are one of the most trusted and popular power tool manufacturers in the world. HiKOKI is the new brand name for Hitachi. Their tools provide quality and performance you can rely on, so it is to no suprise that they are now offering a 5 year (Yes, 5 year!) warranty on selected power tools and accessories. In this Toolstop guide, we'll explain everything you need to know about the HiKOKI Hi5 Warranty.
---
What is the HiKOKI Hi5 Warranty?

HiKOKI pride themselves in quality. Their products offer some of the best in class performance when compared to other manufacturers. Couple that with their impressive 36V Multi-Volt range, and you can achieve corded power from a cordless equivalent.
Their power tool offering is second to none. Think nail guns, combi drills, angle grinders and mitre saws. However, with power tools, there often comes some uncertainty. It's no secret that they are expensive pieces of kit, so you want to know you will get your money's worth out of them and that you are covered should anything go wrong. This is no issue with HiKOKI. They have recently introduced a 5 year warranty on selected products to help keep your tools covered and powered for longer.
With this new warranty scheme, they allow you to put your trust in the quality and efficiency of their brand.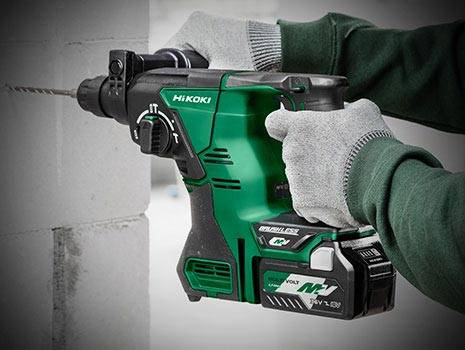 ---
What Tools are Covered Under the HiKOKI Hi5 Warranty?

The new HiKOKI Power Tools extended 5 year warranty (Hi5 Warranty scheme) covers cordless brushless tools in the 18V and 36V (Multi-Volt) ranges. You can register your cordless brushless power tools for an extra 2 years over the automatic 3 years from the heavy duty warranty. Batteries of 5.0Ah and above are also covered, as are Multi-Volt batteries.
HiKOKI pledge to replace or repair any part found to be defective in material or workmanship within 60 months of delivery to the original purchaser.
To register your HiKOKI tools for warranty, simply visit the HiKOKI Service page. Online registration is required within 4 weeks of purchase and you will need to provide proof of purchase. The Hi5 warranty is only available to new tools purchased, used and collected in the UK.
It's worth bearing in mind that not all products are covered under the new 5 year warranty. Corded tools, brushed cordless tools and non brushless cordless tools such as torches and radios are all covered under the existing 3 year heavy duty warranty scheme. Cordless gas nailers and pneumatic nailers are not eligible for the extended 3 year warranty but are instead covered by the standard 12 month warranty.
---
Shop HiKOKI with confidence knowing you are receiving first class continued service.
Still confused? You can refer to our HiKOKI Warranty Page for more details. Or shop all HiKOKI at Toolstop.
---
Explore the Toolstop Blog...