Posted by Katy | Toolstop on 1st Jan 2021
Power Tools have shaped our lives in one way or another. Even if you dont use them on a daily basis, the things you do use were perhaps created using them. This Toolstop Blog talks the history of power tools, how they were invented and how they have evolved.
Where would we be without power tools? Power tools are so accessible these days that we almost take them for granted. They are used all over the world - In trades, the garden, around the home, hospitals, you name it. Even if you don't use power tools on the daily, the things you do use most likely involved using a power tool to create. But what was life like before power tools? Well, this Toolstop guide tells all...
Where did the first power tool come from?

Belive it or not, the first 'power tool' ever to be invented was created by the egyptians. It was (and still is) known as a lathe and was designed to cut shapes in wood. But, though classed as a power tool, it didnt actually have any electric or battery power. One person turned it whilst the other operated it, meaning though easier than manual work, it still required a lot of effort.
Did you know that lathes are still widely used today? Scheppach do some great versions! Of course, they are now much more advanced.
The idea of power tools brought never ending possibilities, and would totally change the way we worked. They started to evolve and technology got better which has gotten us to where we are today.
Who invented cordless tools?

First came Fein, then Black and Decker, then Bosch (click the brands to shop the range at Toolstop) and before we knew it, look at where we are today. Today, the global market for power tools is worth $33 billion!
The first proper power tool ever to be invented was an electric drill (by Fein). Today, we have so many different versions of drills - Combi, SDS, Impact, you name it. But the idea from Fein first came about from combining a manual drill with an electric motor. Back then, tools were nothing like they are now. They were heavy, unreliable and slow. But, they done the job and that was good enough.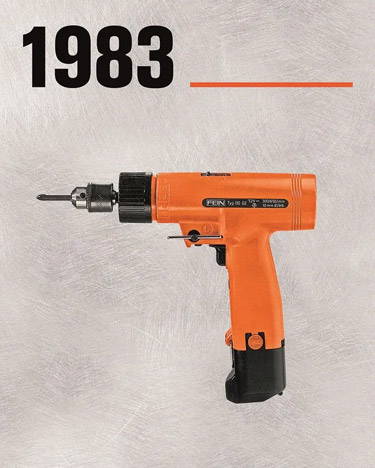 It wasn't long before time that Black and Decker took over, developing a much more powerful and efficient version of the power drill. It was lighter, meaning you no longer needed two hands to operate it (could you imagine that today?) and overall just a lot more adequate. It was at this moment that power tools began to take off. More brands came to light with the idea, grasped the opportunity by the neck and started creating different versions of tools. Bosch introduced the rotary hammer in 1932, then the breaker hammer in 1950 and now look at them! One of the market leaders in power tools, Bosch have been trading since the beginning!
In 1932 came the breaker hammer,1961 brought the first cordless drill, 2004 brushless motors on a power tool and 2005 the introduction of lithium ion batteries!
What's your favourite power tool brand?
Today, power tools are so much more advanced. Featuring sleeker designs, more power, lighter and compact, faster working - the possibilities truly are endless. 2004 brought the introduction of the brushless motor. This meant longer runtime, increased power output and less maintenance. You can check out our blog post here on brushless motors. Before this, brushless motors were used in other machiney and trades, but Makita took the plunge and were first to introduce them into the power tool world. Other brands began to follow suit, and now they are loved by many for their capabilities.
You never used to have a choice when it came to tools, but nowadays they are available as corded or cordless, in voltages ranging from 10.8V all the way up to 54V, different sizes, styles, you name it. There really is something for everyone now. The choice is outstanding, and the possibilities are endless.
Today, power tools are constantly evolving. Who knows what will be available 10 years from now? So, whats your favourite power tool and why?
Our Favourite Power Tools at Toolstop:
Explore the Toolstop Blog...