Posted by Katy | Toolstop on 14th Dec 2021
Find out everything you need to know about Dewalt's latest offering - the DCF850 compact impact wrench - in this Toolstop blog.

Dewalt Introduces New Compact Impact Driver

Dewalt recently announced the launch of a new impact driver - the DCF850 - and it is a game changer! The DCF850 18V XR impact driver is ultra compact with 3 speed settings for maximum versatility and up to 205Nm torque. In this Toolstop guide, we show you all the features you can expect from this tool and why it is hyped up to be Dewalt's best impact driver yet.
---
Features of the DCF850 Impact Driver

The DCF580 benefits from features such as a brushless motor for more power, efficiency and durability and a variable speed trigger to allow speed control over applications and to prevent over tightening. It is capable of producing up to 205Nm torque in a tiny package, measuring just 100mm in length. The improved 1/4" bit holder offers improved user experience by reducing bit run out.
Other features include a 3 mode switch with precision drive which allows the user to select different modes and speeds to suit the application, an ergonomic grip handle for comfort during prolonged use and an LED ring light to illuminate the workpiece.
Its compact design makes it ideal for use in confined, hard to reach areas. It has a 1/4" drive with variable speed control, capable of producing up to 3250rpm. It is compatible with all batteries in the 18V range including the new Powerstack batteries. You can find out more about Dewalt Powerstack batteries in our blog.
---

---
Who Will Benefit From Using The New DCF850?

With its compact design, the DCF850 can be used comfortably all day long. It is powerful enough to withstand demanding tasks yet able to fit into tight, confined areas. It is used and loved by:
General tradesman

Interior installers

Dry liners

Electricians

Heating and plumbing engineers

HVAC installers

Carpenters

Cabinet installers

Fabrication shops
... and loads more! There is no job too big or small for this model.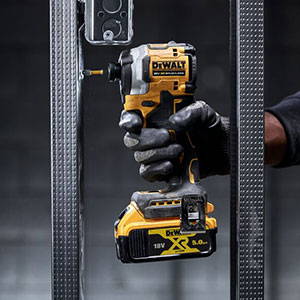 ---
Lets Compare it to Another Model...

The DCF887 currently stands as Dewalt's most sought after cordless impact driver. Lets compare this old favourite to the new DCF850 👀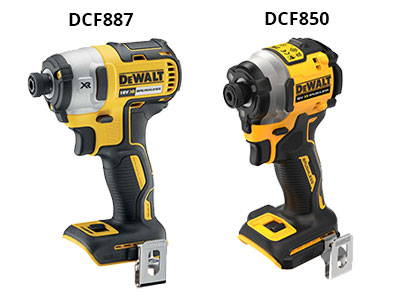 As we can see, the only real difference is the size of these models and a slight increase in impacts per minute. The new DCF850 is shorter in length than the DCF887, meaning it can fit into even smaller spaces. It is extremely lightweight meaning no fatigue, even during prolonged use.
---
The DCF850 is launching soon...

Toolstop currently has the DCF850 on order and are awaiting stock. Sign up to Toolstop's newsletter or follow us on social media to be the first to be notified when it's available!
---
Shop Dewalt Impact Drivers:
Explore the Toolstop Blog...