Posted by Katy | Toolstop on 1st Jan 2021
Routers are a common wood working tool used in an abundance of trades. This Toolstp guide explaines to you why you should be using a fixed base router and the benefits of doing so. We stock some of the best fixed base routers in the uk right here at Toolstop
Routers are a common wood working tool used in an abundance of trades. This Toolstp guide explaines to you why you should be using a fixed base router and the benefits of doing so. We stock some of the best fixed base routers in the uk right here at Toolstop
Routers are a common wood working tool used in an abundance of trades. This Toolstp guide explaines to you why you should be using a fixed base router and the benefits of doing so. We stock some of the best fixed base routers in the uk right here at Toolstop

What is a Plunge Router vs Fixed Base?

Routers come in 2 forms - fixed base and plunge base. They are a must have woodworking tool typically used in carpentry, though are equally as popular for carrying out DIY and other home projects. Today we will explain what exactly a fixed base router is and the benefits of owning one. We also have an exclusive demo from Bosch!
Heres some background info on the two types of router available:
With a plunge base router, the router bit starts off inside the router unit rather than out. The router bit will automatically lower down when the tool is started to the depth you set it to. This allows you to lay your router straight onto the workpiece and is great for carving inside the material as well as around the edges.
Fixed base routers already have their depth set. This means you will be approaching every project from the side. Fixed base routers are typically more suited to edge work such as routing architrave and skirting boards etc. The position of the router bit remains the same at all times. You simply set it to your desired depth, and it will give you exact results every time. This is ideal for making repeat patterns in wood.
What is a Fixed Base Router?

We asked Eric Streuli to explain his enthusiasm for fixed base routers. Surely it's counter-intuitive to use a fixed base when you can buy a plunge router, set it to the depth you need and work that way, plunging as you go.
Well, yes. There's an obvious argument to the benefits of plunge routers, the most obvious being their flexibility. Why not take a look at the range of plunge routers we stock!
However, Eric outlined 3 solid reasons to consider using a fixed based router and he did so using the Bosch Cordless Router GOF 1600 CE. Check out the video below and scroll down for Eric's top 3 tips.
Why use a Fixed Base Router?

Reason 1: Control
When using a fixed based router, your hands are much closer to the workpiece, therefore you have more stability when moving the router over the workpiece. This equates to better control. So, a fixed base router is ideal for freehand edge work, and jig work because of the control and stability you enjoy when using it.
Reason 2: Repeat Applications
You're undertaking a routing application and you're doing it over and over again. Yes, a plunge router will handle this for you but you will need to keep a close eye on the depth you've set. Reintroducing the router to the work piece in a plunge motion could affect the accuracy of the depth. However, with a fixed base router, you set the depth and that's it; that depth will be the depth you cut. No more, no less.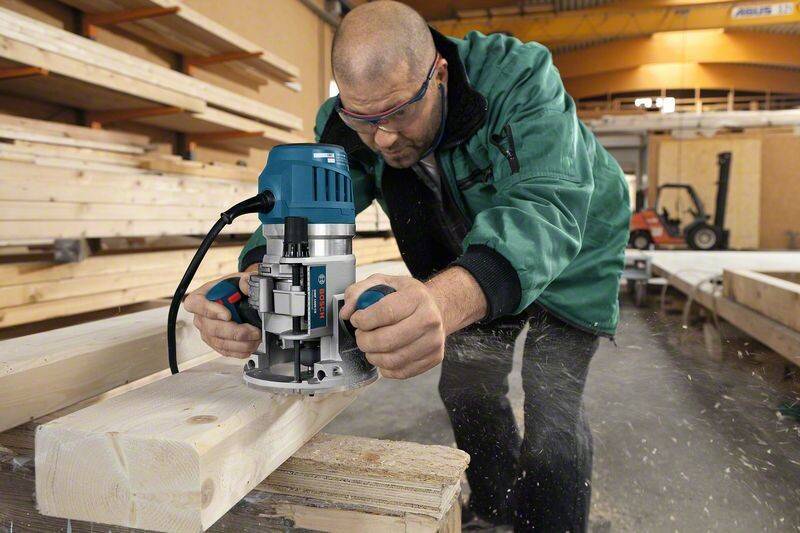 Reason 3: Router Table
If you're using a router with inter-changeable bases, it's really easy to set up the fixed base part in a router table, then use the motor in the plunge base, slotting it back into the table when you need it.
So, three simple reasons from an expert as to why you should be using a fixed base router. And you can see Eric demonstrating the first two reasons in the video shown above. But what do you think?
Let us know if you agree or disagree with Eric's reasons, and if you've got more reasons to add to our list, tell us!
Shop Routers at Toolstop: