Posted by Evan | Toolstop on 15th Apr 2021
This Toolstop guide explains how to cut tiles with ease with the Makita CC301DWAE as well its main features and specification

How to Cut Glass and Tiles

Cutting tile and glass can be messy, tricky, time consuming a little bit dangerous! So, obviously, it helps a lot if you know what you're doing and you're using the correct tools for the job. In this quick how-to guide, we'll look at how to quickly, safely and easily cut tile or glass using the Makita CC301DWAE cordless tile cutter.
How to Cut Tiles With the Makita CC301DWAE

Cutting tiles to size is essential for fitting around obstacles like toilet seats and sinks. When cutting tiles, you often want to opt for a diamond blade as they are better at cutting hard and abrasive materials. The CC301 comes with a diamond blade included as standard. There are a few tools suitable for cutting tiles - angle grinders, wet tile saws, tile cutters and more. This guide focuses on the Makita CC301DWAE Tile Cutter.
First off, a bit of spec about The Makita CC301DWAE
The CC301 tile cutter has a high speed of 1500RPM, it's lightweight at only 1.8kg, has a water supply tank with large cap for easy opening and refilling of water and runs off of Makita's famous 10.8V CXT batteries.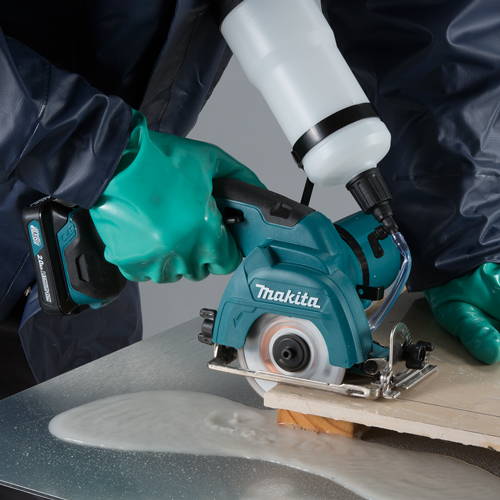 What does the CC301DWAE offer in terms of power and capacities?

The Makita CC301 succeeds the CC300 and has a maximum cutting capacity of 25.5mm. Here is its main specification:
Blade diameter: 85mm

Bore diameter: 15mm

Capacity at 0°: 25.5mm

Capacity at 45°: 16.5mm

RMP: 1,600rpm
The 10.8V powered motor offers 1500rpm, which is enough cutting power to handle cutting into porcelain tiles or glass.
Note that it will cut tiles or glass at a 45° bevel. See it in action here:
So how do you use a tile cutter? Follow these simple steps below for the most accurate and pristine results:
Get Prepared: We bang on about this a lot, but it bears repeating; before you cut any tile or glass, make sure your tile cutter is fitted with the proper blade for the job and that you are equipped with the correct PPE such as gloves, safety glasses, kneepads and earplugs. It's always important to maximise the efficiency of your cutter and most importantly ensuring your own safety. Once you've got yourself and your cutter suited and booted; it's time mark out your cuts.
Measure and Mark: Measure where the tile needs to be cut and mark it with a pencil. This will give you a clear guide for your cutter to follow.
Fill 'Er Up: The CC301DWAE comes with a 500ml capacity water tank. This is vital for cooling and lubricating the cutting blade as you cut the tile or glass to prevent cracking and chipping. So, it's important that you remember to turn the flow of water on before you start cutting and off again when you're finished.
Now time for the messy part: With the water flowing out of the tank onto the blade, you don't need to worry about the CC301DWAE getting slippery in your hand. Makita have kitted it out with a rubberised ergonomic soft grip with "non-slip elastomer" which will help you keep a hold of it and stay in control, even when wet.
Get the Depth Right: You don't need to cut all the way through the tile or glass. You just need to cut deep enough to be able to gently break the workpiece. This is the same principle in place when using a traditional tile cutter that merely scores glazed surface.
---
So, that's how you cut glass and porcelain tiles with the Makita CC301DWAE. It really is as simple as that. The main points to note are to make sure you have turned on the water flow, and to cut slowly but surely. Cutting tiles and glass is made easy with the Makita CC301DWAE. Shop it here.
---
Shop more Makita tools at Toolstop:
Explore the Toolstop Blog...