Posted by Katy | Toolstop on 16th Sep 2020
Changing an SDS Chuck Mechanism can be daunting if you have never done so before. That is why we have created this handy Toolstop guide. If you want to know how to change a drill chuck, to be precise how to change the chuck on an sds drill, follow the given steps to be able to do so with ease.
The Evolution R210SMS sliding mitre saw might possibly be the new king of mitre saws. Evolution are known for their powerful and intelligent mitre saws, and this one is no different. You can expect power, long life and maximum performance with the evolution r210sms.

When you own a mitre saw, you expect it to make cuts at angles, bevels and angled bevels. You'll be able to mount it on a bench, table or preferably a leg stand, and then depending on the blade size, you'll be able to make cuts in broad, thick pieces of materials. You also, again depending on the blade, want it to cut non-ferrous metals, plastics and of course wood.
The choices when choosing a new mitre saw are huge, and we've got a guide to making sure you're getting the best saw for your money, which you can read here.

One brand that's always worth looking at when choosing a new mitre saw is Evolution, and its latest offering, the R210SMS+ is one that begs a closer look at.
Evolution Power Tools R210SMS+ What are the Benefits of Owning it?

The key factor with any Evolution saw is the blade. Evolution saw blades are designed to cut pretty much anything you throw at them, the key factors being they'll cut metals without creating heat or sparks. They're genuinely amazing. So, it's good to know that the R210SMS+ comes bundled with a 210mm multi-purpose blade that will slice through wood, wood with nails, aluminium and metal. No sparks. And the cut is cold, meaning you can touch the material straight out of the cut. Basically, this saw is a superior choice over any type of abrasive cutting.
Admittedly, the blade isn't going to be great for making cuts in wood where the finish has to be super-fine for finishing work. But that, as always, comes down to the choice of blade you've fitted. Therefore, it's best for first fix applications. But the ability to chop through a piece of wood then a piece of metal, without changing – or damaging – the blade, is a huge bonus for first fix tasks.
Evolution Mitre Saw Blades
The ability to make clean, burr-free cuts in metal, ready for welding, is a huge benefit but the blade isn't the be-all-and-end-all of any mitre saw. The motor is a serious consideration too. Evolution has fitted a powerful 1500W motor onto the saw, providing the blade with the power for 3750 rpm. The motor and gearbox are both optimised to handle the sort of cuts the blade is capable of, with ease, while there are protection systems in place to ensure the saw's lifetime is long and hearty. Plus, Evolution provides a 3-year warranty for peace of mind.
To make sure the cuts are true, there is, of course, laser guidance, and for controlling any harmful dust created by your cuts the saw is fitted with a 35mm dust extractor port. Click here to read our guide to M-Class dust extraction, a necessity on any jobsite.
Evolution R210SMS+ Mitre Saw – What are the Specs?
With the supplied TCT multi-purpose 210mm blade, and the motor spinning it at 3750 rpm, you'll be able to cut wood with dimensions of 230 x 65 mm. For steel box plate, it'll slice through anything with a wall thickness of 3mm. And it will cut through steel plate up to 6mm thick.
It mitres 50º left and right and bevels over to 45º, while the slide is a healthy 230mm.
Evolution R210SMS+ Mitre Saw – Who is it Ideal for?
If you need to make cuts in steel box, for example, it'll handle the job with ease and the cuts are left burr-free, smooth and ready for welding. Plumbers will love this saw as they'll be able to go from cutting plastic pipes to metal pipes without even thinking of taking the time to switch over blades. First fix applications where you need to cut wood where the presence of nails is likely will also benefit for opting for the RMS210+.
The R210SMS+ could be the perfect slide mitre saw for plumbers!
While the R210SMS+ is perhaps outclassed in the finesse department by other sliding mitre saws, it's a king in it's own right when it comes to pure versatility and the promise of spark-free, burr-free, ready-to-weld cuts in metal, and should be a serious consideration for first fix application and for plumbers. You can see all the spec and features of the Evolution R210SMS+ here.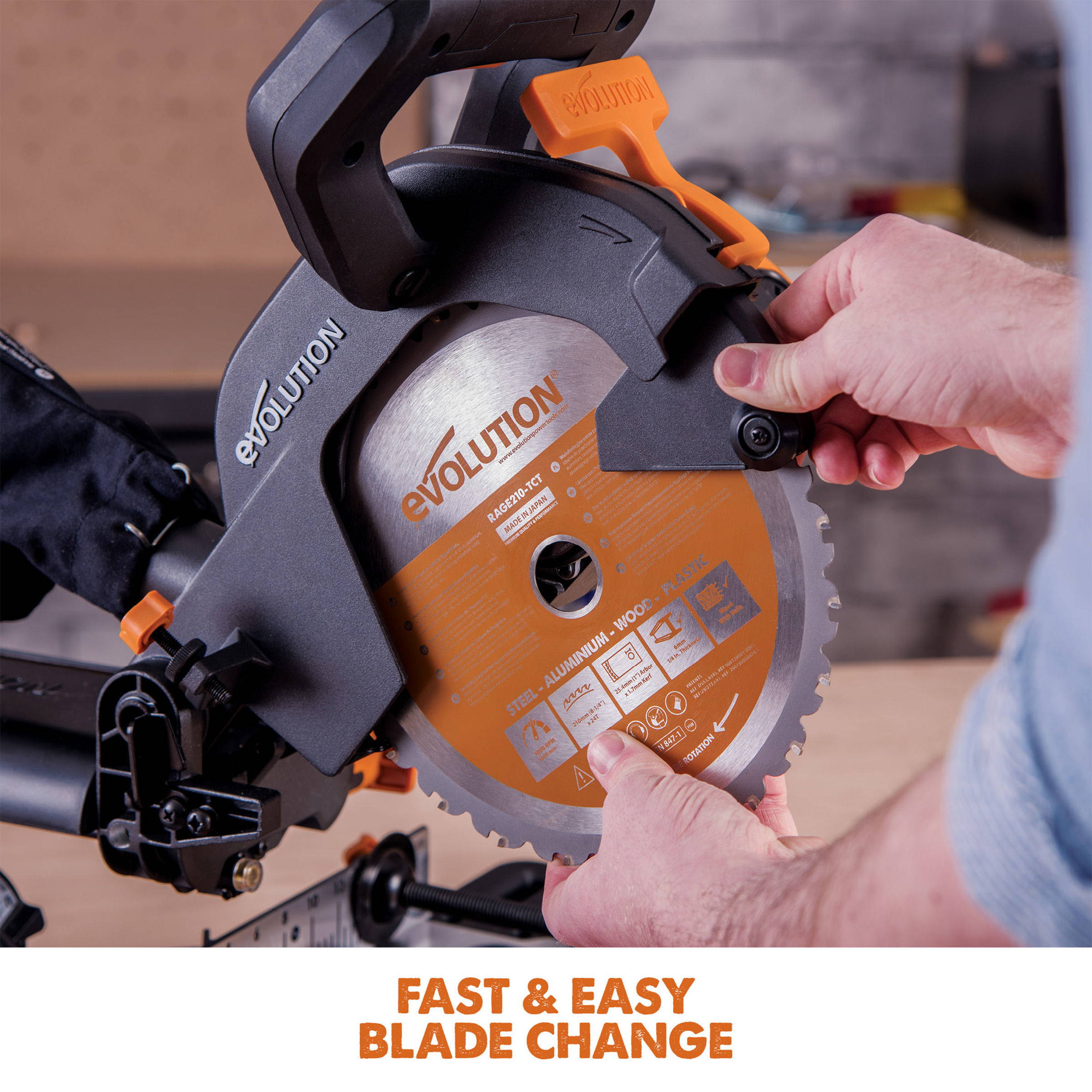 We'd love to hear your thoughts on it!
Explore the Toolstop Blog...