Posted by Katy | Toolstop on 1st Jan 2021
This Makita String Trimmer Review discusses the main features and benefits of the DUR181Z. Get your garden in its best shape possible this season with this Makita Grass Trimmer.

Makita String Trimmer Review

This Toolstop Review on the Makita DUR181Z explains everything you need to know about this bestselling grass strimmer. Features, benefits, specification and more are discussed. Get the job done quickly and efficiently with this Makita 18V Trimmer. Shop it here!
Tidy up the Garden with Minimal Effort

Garden trimmers use a nylon line instead of a blade to cut through grass. The wire is spun at such great speed that it is able to cut grass and other shrubs with ease. The head cover will prevent any garden trimmings from flying. These garden tools are most often used to cut and trim around the edges of your lawn, providing a neat finish where your lawnmower may not be able to access.
If you want your garden looking in tip top shape, the Makita DUR181Z is the grass trimmer for you. This Makita String Trimmer has been specifically designed to have a lightweight and compact, well balanced design for ease of use and maximum productivity. It is powered by Makita 18V Batteries which provide an impressive 7,800rpm.
Durable and Easy to Manoeuvre

This Cordless Garden Trimmer is suitable for all home gardening tasks and maintenence. It is robust and durable with an adjustable cutting head with 5 different pivoting positions to help you trim in even the tightest of places. The telescopic shaft on the Makita DUR181Z is extremely handy and will extend from 1150mm to 1330mm, making it suitable for users of all heights.
The battery is slotted underneath the main handle which acts as a great pivot point when the tool is swung like a pendulum during grass cutting. It even has a battery warning lamp which alerts you when you are close to running out of charge, but theres no need to worry as this grass trimmer will run for 45 minutes with a 3.0Ah battery! Simply use a higher capacity battery if you require longer runtime. For full product description, details, specification and our to see our best price, click here.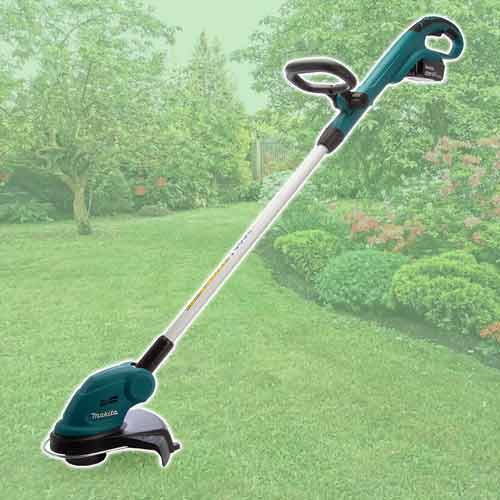 At Toolstop we stock the Makita DUR181Z which is supplied body only with no batteries or charger. However, we also stock the DUR181RT which comes complete with a 5.0Ah battery and charger. You can shop both models right here depending on your needs.
Other features of this model include an easy to change spool assembly and adjustable loop handle. The adjustable loop handle gives you more control and takes any strain off your back.
So, is this the Makita Grass Strimmer for you? Take advantage of the great deals we currently have to offer on these models and achieve that professional garden finish this season.
Best Selling Garden Power Tools at Toolstop:
Explore the Toolstop Blog...